Orange Class
Welcome to Orange Class!
During the following year your child will be studying many different topics. The newsletter is designed to give you a general outline of the topics which we will be learning about. It will also inform you of any extra home work your child will need to do during the half term.
Our topic this half term is Ourselves.
In R.E, we are looking at the different communities we belong to. Part of this is to look at families. It would be useful if the children could produce a family tree at home. This can be in any format the children choose and will be used as part of a classroom display. If this could be in school the week beginning the 18th September please.
In computing the children will be learning to log onto their own individual profile saving and opening work. This is part of our internet safety and we will be using the Hector's World programme to learn how to be safe on the computer.
We will be learning about our bodies in Science, this will include looking at how our bodies work, the way we use our senses and how we change.
We will also be looking at the differences between humans and animals and what they both need to keep healthy.
In English we are learning about labels and captions, then poetry based on our senses. We will then be looking at writing stories with familiar settings.
Maths will still take a practical approach in year 1 but your child will be learning to sort, order and classify objects as well as counting, adding and subtracting them.
We will be having P.E on a Tuesday and Wednesday with Mrs Howe. We would like to take this opportunity to remind you that P.E kits need to be at school every day and that hair must be tied back.
We really value parents' contributions in school and look forward to seeing you on Monday mornings starting the 25th September. It is a valuable sharing experience for both the children and you as parents.
We would also like to take this opportunity to remind you that listening to your child read at home daily is valuable for the progress of your child's reading.
In Year 1 we hope that you will continue the work you have already been doing with your child in reading. Books will be changed twice a week, please be aware that the books that they bring home are not the same as the books read in school. During the course of the year we will continue to work on the decoding of words using phonics but a greater emphasis is placed on the understanding of the text. There will be a reading meeting on the 21st November to explain how you can help your child with this.
Your child will be given a spelling book. Each half term they will be assessed on the spellings they have been given. Please see attached sheet for more information.
Your child will also receive Maths homework. We will also be holding a Maths meeting on 8th November to give you some pointers on how we teach maths.
Show and tell will be on a Friday and the children will be asked to talk about and show something about the topic we are learning about.
Each child is placed in table groups and each group will have one turn at sharing. See dates below.
Turtle 15th September
Crab 22nd September
Seahorse 29th September
Starfish 6th October
Jellyfish 13th October
This half term I would like them to bring in something that is important to them. It may be a toy, photo and book. Please ask your child which group they are in.
Summer 2
We went on a plant hunt to see all the different kinds of plants they had a Rye Meads.
We had to find and label the parts of a plant then explain why each part is important.
We had a colour chart to match the plants to, we then got to pick parts of plants to stick on a sticky leaf.
We went pond dipping and found lots of pond life.
This week it is maths and art week we have learnt how we can link the two together. We had lots of fun playing different math games.
We look at the painting Blobs Grow in Beloved Gardens by Friedensreich Hundertwasser, we created our own picture of it. We used string to create the plants and we noticed each circle was getting smaller. We used our measuring skills to make sure the circles were smaller than the last one then we drew the design after that we painted our pictures.
We linked maths and art week to our topic of 'In the Garden', we created repeating patterns using plants and leaves we found outside.
This term our topic is 'In the Garden'. We will be learning about plants in science, as well as looking at birds, amphibians and insects. We will be going around the school to look at the plants and minibeasts we have around us as well as identifying them.
We drew and painted our favourite minibeasts.
We designed our own butterfly wings, we had to make sure they were symmetrical.
In computing we have been learning about how to use the internet safely using search engines to find pictures. We will be continuing with this by researching animals and making a PowerPoint.
In English we will be writing recounts linked to plants and animals and understand what a recount needs to include. We will also be looking at information books. This will be linked to our computing lesson to find out different ways to find information.
For D.T we will be visiting the park to look at how the equipment works, we will be making our own models.
We wrote our own poems for 'What makes a garden grow, grow, grow.'
In maths we have enjoyed working out the number on the number line, we used the midpoints to help us work out the mystery number.
We had lots of fun in science week, we learnt how junk can make music.
We had lots of fun at the circus workshop we learnt lots of tricks.
This term we are learning about Queen Elizabeth 1st and 2nd, we will be looking at the differences between the lives of both Queen's.
Our portraits of Queen Elizabeth I and II and their crowns.
We will also be looking at how food, clothes and technology have changed. In D.T we will be designing and doing cross stitch to create their own collar for Queen Elizabeth I. The children will also be making a sculpture of the Queen's head.
In English the children will be learning poems about gardens. We will also be looking at fantasy stories and the children will be writing their own stories.
For computing we will be illustrating an eBook and looking at how to use the internet safely using search engines to find pictures.
In geography we will be looking at the British Isles and identifying the main features of each country.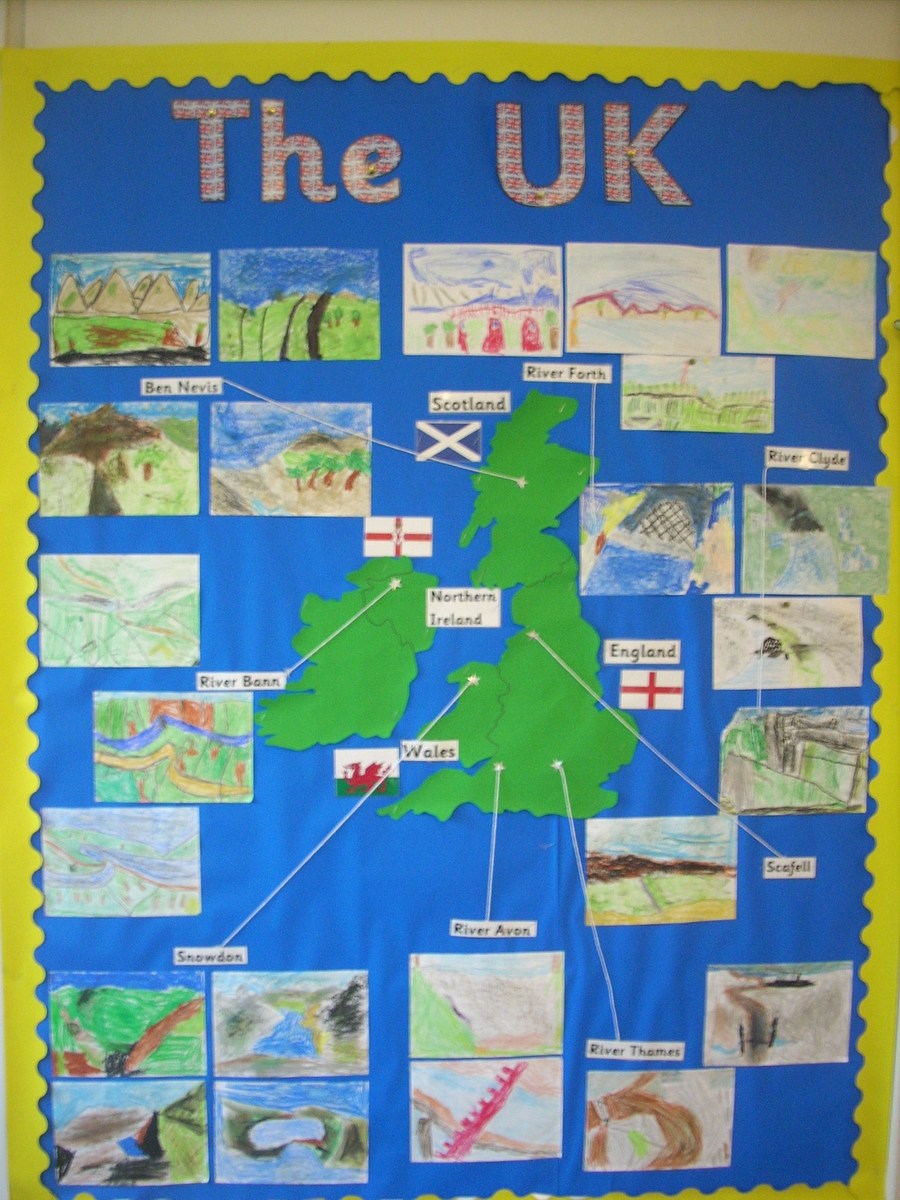 We had lots of fun in book week!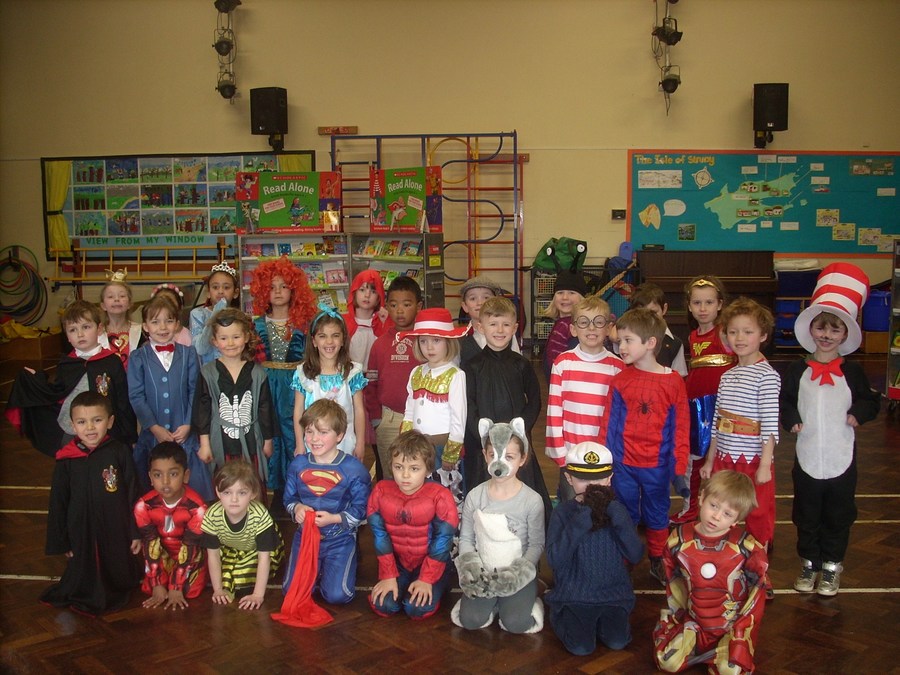 An author and illustrator came in and read us a story and showed us how to draw animals using shapes.
We had a fairy-tale workshop and went to the book fair.
This term our topic is buildings.
We went on a walk to Hitchin to look at how it has changed over the years and also the different buildings around the school. We also looked at the patterns in buildings and the different materials they are made from which will help us when we make and design our own buildings in design and technology.
We had a visitor from the museum to tell and show us how the railway changed Hitchin.
In topic we are going to be looking at buildings from around the world and work by the architect Gaudi and will be recreating some of the buildings we have learnt about. We will be looking at maps and aerial photographs to locate the different countries and their landmarks as well as our local area.
In English we have been writing a recount of out trip to the town and will also be using the work in our topic to write recounts of what Barnaby Bear did on a day trip to Paris. We will also be interviewing different adults in school to help us write a leaflet about Highbury School.
In computing the children will program a Bee-Bot to move around a map, they will start by thinking of algorithms for their routes and input these on the Bee-Bot. They will also be predicting how they think it will move and will debug their programs if their Bee-Bot does not follow the correct instruction.
In art we have been looking at different textures and went outside to make rubbings of different objects.
We had a great day joining with Blue Class learning about paper. We did lots of activities including paper weaving and creating mosaics.
We visited the Town Hall to see the Pirates, Pants and Wellyphants Exhibition by Nick Sharratt.
Our topic this term is books. In English we are looking at Traditional Tales as well as using the work of Quentin Blake to write poems with illustrations. We will also be looking at books from different faiths and reading some of the stories. This will be linked to DT where we will be designing and make a Joseph's coat.
In Science we will be exploring materials, looking at the best things to make a dress for Cinderella, a bridge for the Trolls and a cape for Red Riding Hood.
In computing we will be finding out the different types of media that books come in and will use the computer to make a talking book that they can share with others.
In Geography we will be looking at maps of the school and local area and deciding what types of books can be found within the community. We will also be looking at where the town hall is situated and how to get there.
Autumn 2
This term our topic is animals in geography, we made a journey around the world, looking at the different continents and the animals that live there.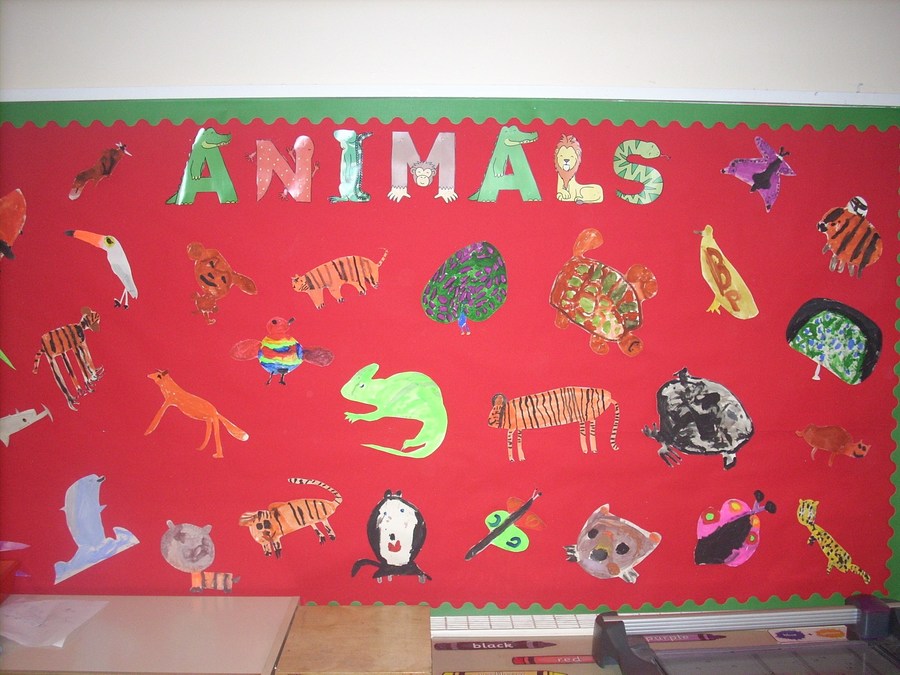 We went on a hunt around school to find animals that live around us.
In science we have been looking at mammals and the difference between us and birds, reptiles, amphibians and insects. We have used this to help us group animals, we learnt there are lots of ways we can group animals.
During computing the children will become TV Chefs where they will be creating their own short video of themselves making a healthy snack as well as creating their own instructions. In English we have been looking at stories with repeated language in texts. In groups we made up actions and acted out the story We're going on a bear hunt to help us remember it.