Orange Class
Welcome to Orange Class!
We helped make the continents and used various collage materials to make them colourful for our display.
We learnt about Australasia and made our own Aboriginal Art. We were really proud of the pictures we produced, and we all tried our best to only draw dots.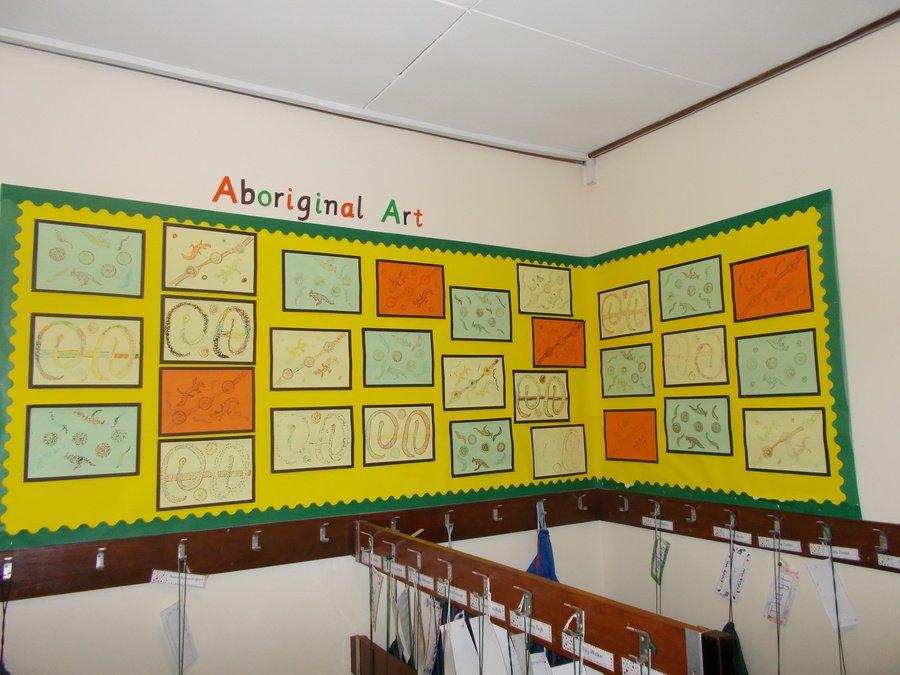 We learnt about South America and made worry dolls. We told our dolls one thing we might worry about sometimes and wrote it on the back.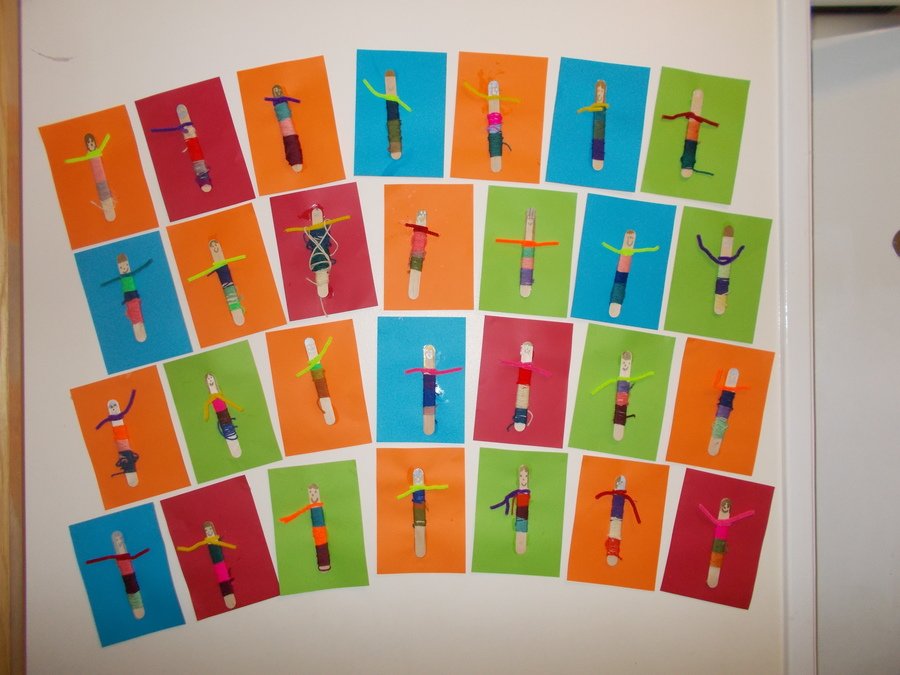 Our topic this half term is 'Around the World'. We will be learning about the 7 continents and naming them.
For show and tell this half term we are asking the children to bring in a photo of somewhere they've been on holiday.
Seahorses: Friday 25th January
Jellyfish: Friday 1st February
Starfish: Friday 8th February
Turtles and Crabs: Friday 15th February
Starting 25th January we will be sending home comprehension homework each week. If your child finds the reading of the text tricky, please read it to them but allow them to answer the questions. This will be as well as completing the weekly spelling activities. Next half term the focus of the homework will move to Maths.
We welcome you into the classroom for shared reading every Monday morning until 9.15.
Our topic this term will be materials. Every Friday a group of children will be asked to share a toy with the class so we can discuss the materials it is made from. Please make sure this is small enough to fit in their drawers.
Seahorses: 16th November
Crabs: 23rd November
Jellyfish: 30th November
Starfish: 7th December
Turtles: 14th December
During this half term we have several meetings planned starting with the Maths meeting on Tuesday 13th November, Parent evening on Tuesday 20th November and the English meeting on the 27th November. We are looking forward to seeing you at these events as well as the Christmas play in December – more details to follow.
We looked at using shapes in art and put our own spin on Henri Matisse's 'The snail'.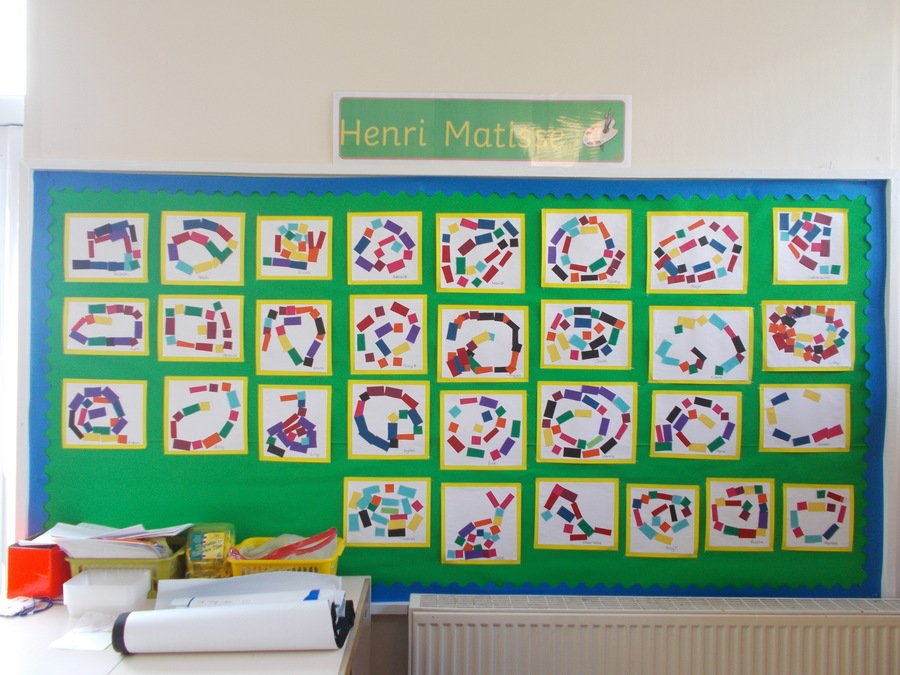 Here are our self-portraits!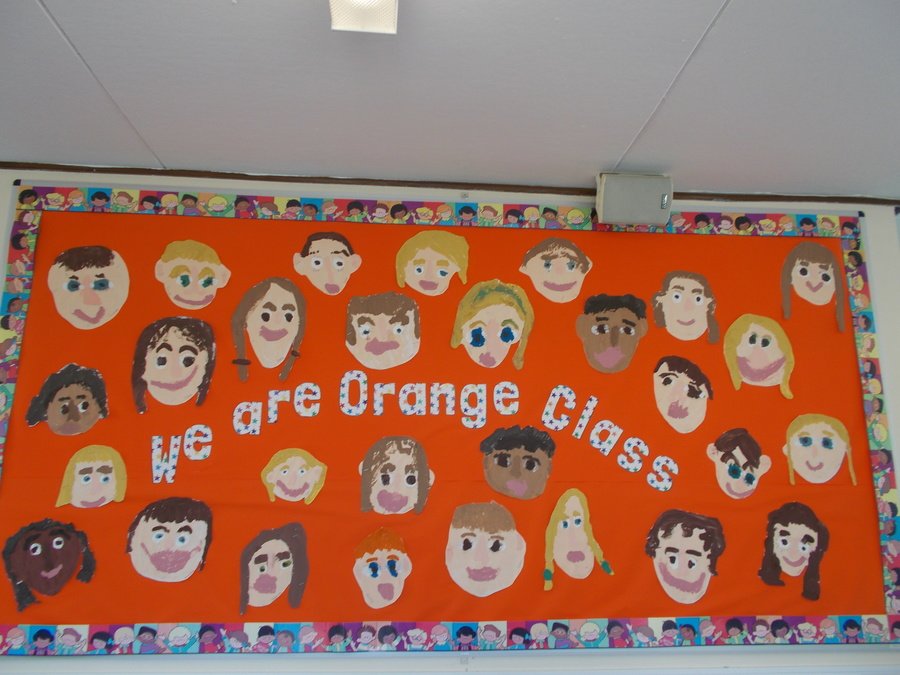 Welcome to Year 1
Our topic this half term is Ourselves.

It would be useful if the children could produce a family tree at home. This can be in any format the children choose and will be used as part of a classroom display. Please could this be in school the week beginning the 24th September.


Our P.E days are Tuesday and Friday. We would like to take this opportunity to remind you that P.E kits need to be at school every day and that hair must be tied back.
We really value parents' contributions in school and look forward to seeing you on Monday mornings starting the 24th September. It is a valuable sharing experience for both the children and you as parents.
We would also like to take this opportunity to remind you that listening to your child read at home daily is valuable for the progress of your child's reading.
In Year 1 we hope that you will continue the work you have already been doing with your child in reading. Books will be changed twice a week, please be aware the books they bring home are not the same as the books read in school.
During the course of the year we will continue to work on the decoding of words using phonics but a greater emphasis is placed on the understanding of the text. There will be a reading meeting on the 27th November to explain how you can help your child with this.

Your child will be given a spelling book. Each half term they will be assessed on the spellings they have been given. More information to follow.

Your child will also receive Maths homework. We will also be holding a Maths meeting on 13th November to give you some pointers on how we teach maths.

Show and tell will be on a Friday and the children will be asked to talk about and show something about the topic we are learning about.
Each child is placed in table groups and each group will have one turn at sharing. See dates below.
Starfish 14th September
Jellyfish 21st September
Turtles 28th September
Seahorses 5th October
Crabs 12th October

This half term I would like them to bring in something that is important to them. It may be a toy, photo, and book.
In art we learnt about William Morris and his work. His floral patterns are beautiful but very hard to continue ourselves! We used resilience to continue his pattern.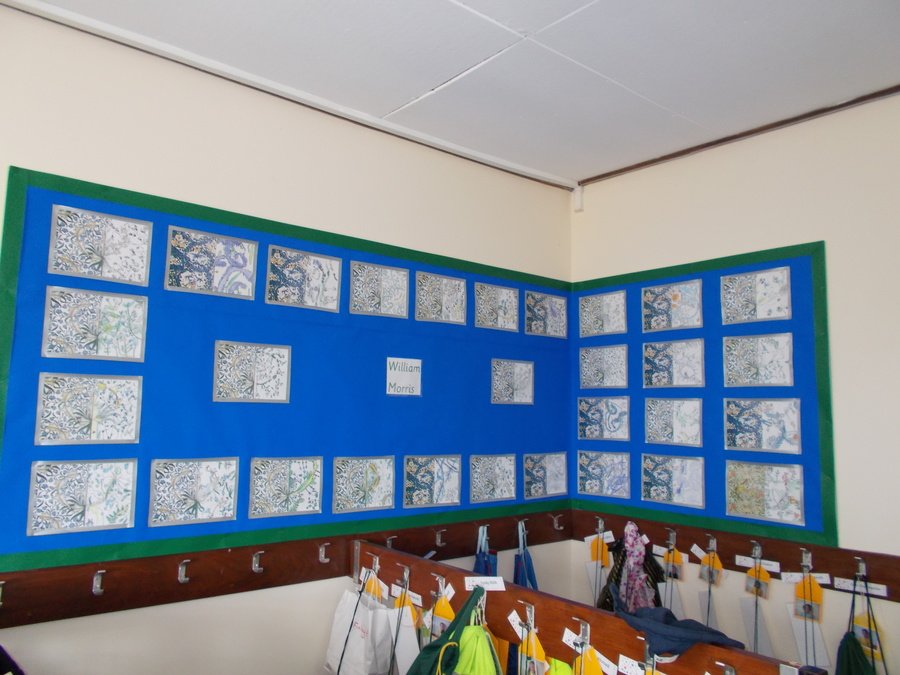 Today the whole of year 1 successfully completed a sponsored 1KM run around the school grounds raising money for Adenbrookes children's ward.
Today we went on our school trip to Herrings Green Farm and Activity centre! We had a great day out and saw a variety of animals including lots of birds of prey, rabbits, guinea pigs, hedgehogs, lizards and even a skunk!
This afternoon we went outside on the field and into the woods. We collected any leaves or flowers s that had already fallen off plants and made them into lovely patterns and pictures.
We are continuing our topic 'Everything Outside' this half term. still looking at plants and animals.
Science week part three.
Today we had a forest school session with Caroline. We were very lucky because the sun came out this afternoon!
We played games, had an explore, did some digging and found some animals. For a lot of us, this was the best part of science week.
Science week part two.
We have been doing fun experiments all week:
We used plastic bottles and cupcake cases to see if different sized bottles made the case fly higher when we squeezed it.
We had a variety of fruit and vegetables and a big tub of water to see which ones would float and which ones would sink. It was interesting that an orange floated but when we peeled it, it sank!
We cut out pieces of a nappy to see how many cups of water it would absorb. This was very messy and we found little pieces of gel all over the classroom!
We had 4 tins which had dog food, tinned tomatoes, baked beans and soup inside. We took it in turns to see which one would be the fastest when travelling down a ramp.
Science week part one.
Today we took part in Splash! workshop. There were 5 different activities including floating and sinking, boat races and trying to transport water from a river to a a house with different pieces of pipe.
18th May - Today we celebrated the royal wedding! We came in dressed in red, white and blue and had a picnic lunch outside.
We even watched Morris dancers and learnt a routine ourselves!
We have been comparing the work of Henri Rousseau and Vincent Van Gogh, discussing similarities and differences. We made our own Rousseau pieces using pastels, felt tips and tissue paper.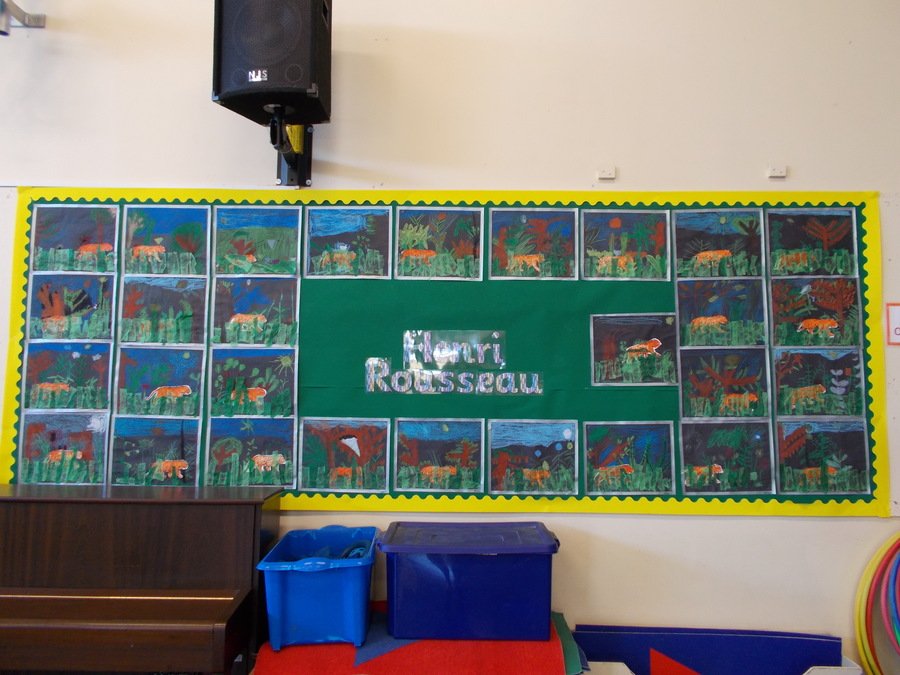 We had a messy lesson feeling pondweed, dry mud, wet mud and sand to use our vocabulary of adjectives to describe how it felt. We then wrote some lovely poems about what we felt.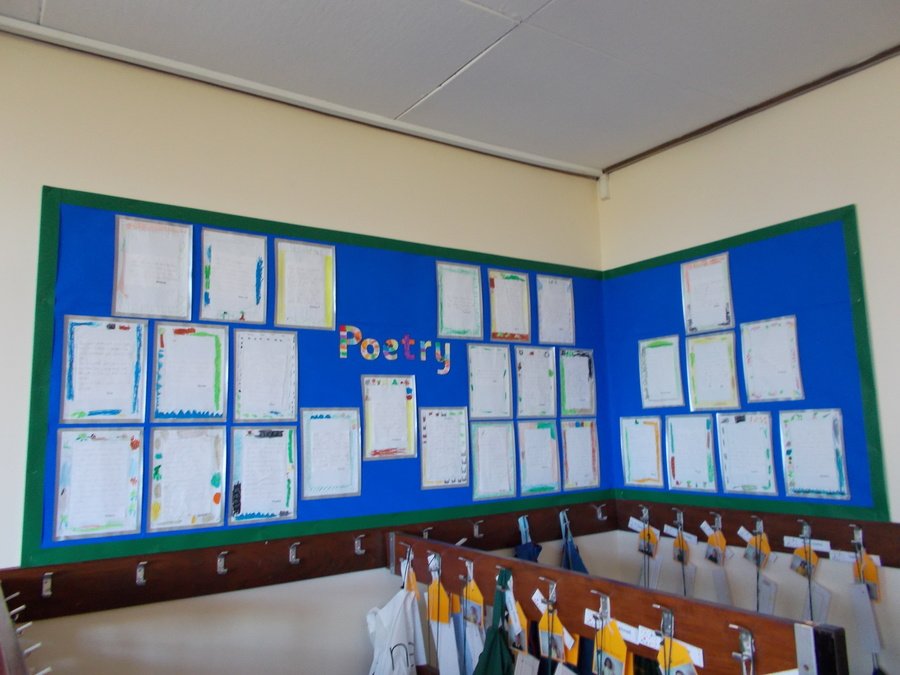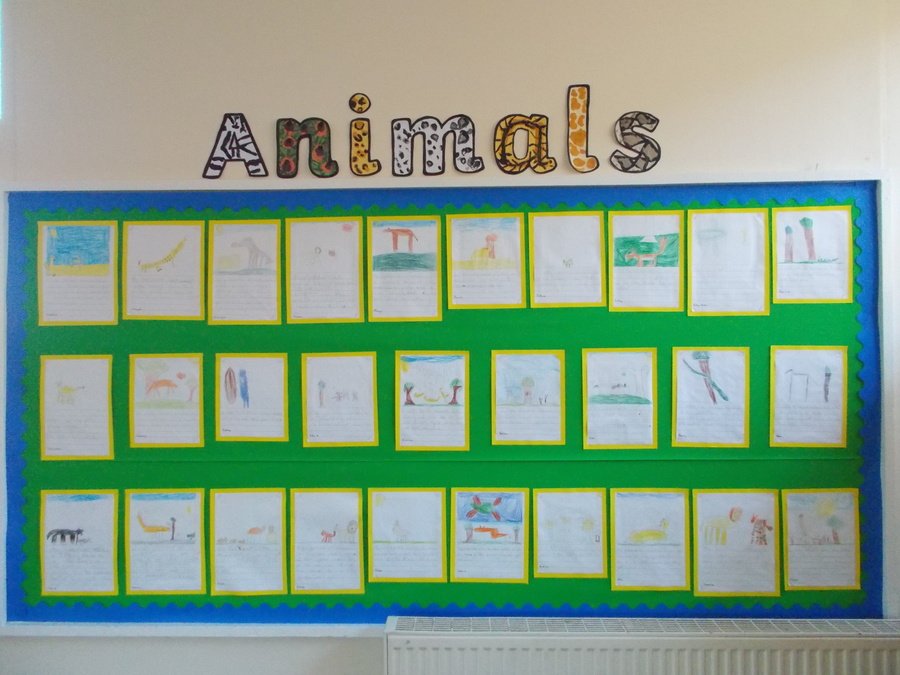 We had a discussion and shared our favourite animals with each other. Some of us had some very interesting thoughts, but the most popular animals of the class were lions and meerkats! We then drew our favourite animal and wrote about what we like about them.
Our Summer term topic will be Everything Outside.
We will be learning about plants and animals; this will include the difference between mammals, birds, fish, reptiles, amphibians, and insects.
During P.E, we will be doing games and practising for sports day later in the term. We would like to take this opportunity to remind you that P.E kits need to be at school every day and that hair must be tied back on P.E days. We also request that the children bring in a pair of trainers on a Tuesday and Wednesday. Trainers from home can be brought in and taken home each day.
To link with our topic this term for show and tell I would like the children to bring in a picture of a pet or their favorite animal.
Starfish – 27th April
Jellyfish – 4th May
Seahorses- 11th May
Turtles – 18th May
Crabs – Thursday 24th May
As the weather is getting very hot, the children need to have a water bottle and a sun hat in school.
I would also like to invite you to our class assembly which will be held on Thursday 10th May starting at 9.15 where the children will be telling you all about their learning from our last topic of buildings.
This half term we have been making our own buildings in D&T with Mr Sharp. We each brought in a shoe box and every week we have been adding something different (or taking something away!) to our buildings. We are very happy with them and have learnt many new skills whilst making them including how to use and vice and a saw!
This morning we walked down to the new museum all about Hitchin in the town hall.
We saw lots of fossils, stones, bones and clothing all found in Hitchin many years ago. We then looked at a painting which was painted by Samuel Lucas of all the people he knew in Hitchin. We were hot seated and put into these peoples shoes. We did very well answering questions on whether these people were happy about the railway being built in Hitchin.
This week has been book week.
We had a great African storytelling workshop and went back to Red class to read a story with Miss Craik.
We also really enjoyed doing a book scavenger hunt! We were given a list of items and had to find them in all sorts of books!
Today we came dressed as our favourite book character and had a parade assembly to see other classes costumes and the teachers costumes too! Here are a few of us all dressed up.
22.02 Today we had a fencing lesson. We had great fun and learnt our feet must always be kept in the shape of an L when moving backwards and forwards!
22.02 Today we went on a walk through Hitchin to look at how different buildings had changed. We took some old photos around with us on our walk so we could compare how houses and shops looked different. We also noticed how many more cars there are nowadays.
Welcome back!
We will be looking at Hitchin and how it has changed over the years and also the different buildings around the school. This will involve a trip into the town and a walk around the local environment to look at the patterns in buildings and the different materials they are made from.
We will also be looking at the different styles of houses that the children live in. Please can your child bring in their postcode the week beginning 5th March so that we can use google maps to search for their house. For show and tell I would like the children to bring in a picture of their home, or a building they have visited, so we can use this as a discussion point. Turtles 23rd February, Seahorses 2nd March, Crabs 9th March, Jellyfish 16th March, and Starfish 23rd March.
In Topic work we will be looking at buildings around the world and work by the architect Gaudi as well as buildings that different faiths use.
In English we will be using the topic to write recounts of what Barnaby Bear did on a day trip to Paris and will continue to use this theme when we have been on our trip to the town. We will also be interviewing different adults in school to help us write a leaflet about Highbury. During this half term Mr Sharp will be helping the children to make a model of a building.
The week of the 26th of February is book week in school. We have lots of activities planned and the children can come dressed as a book character on Friday the 2nd of March.
On Thursday the 22nd of March we will be visiting Hitchin museum to learn about what life in Hitchin was like before the railway arrived. If you are free and would like to join us please speak to Miss Kirbyshire.