Autumn 2 2017
We read the story of The Snow Lambs. Each child painted a picture of a sheep to put into our display in the dining room. The children also painted wintry trees, people and a dog. We learnt lots about colour mixing as we needed lots of different shades of green for the background.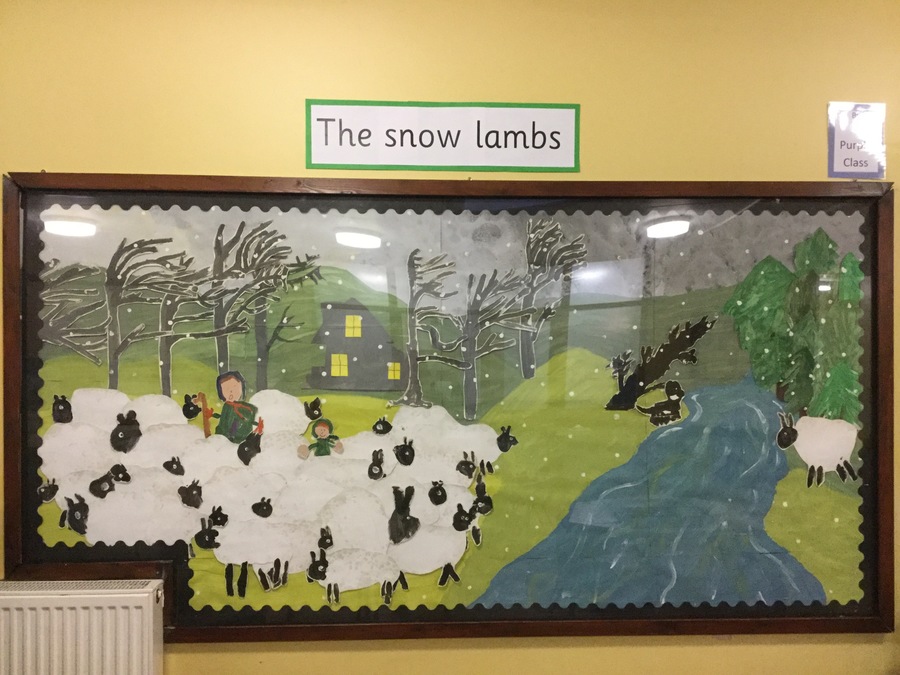 Autumn 2 2017
The children have done a super job of retelling the story of the very first Christmas. They have also each painted a house for our Bethlehem scene.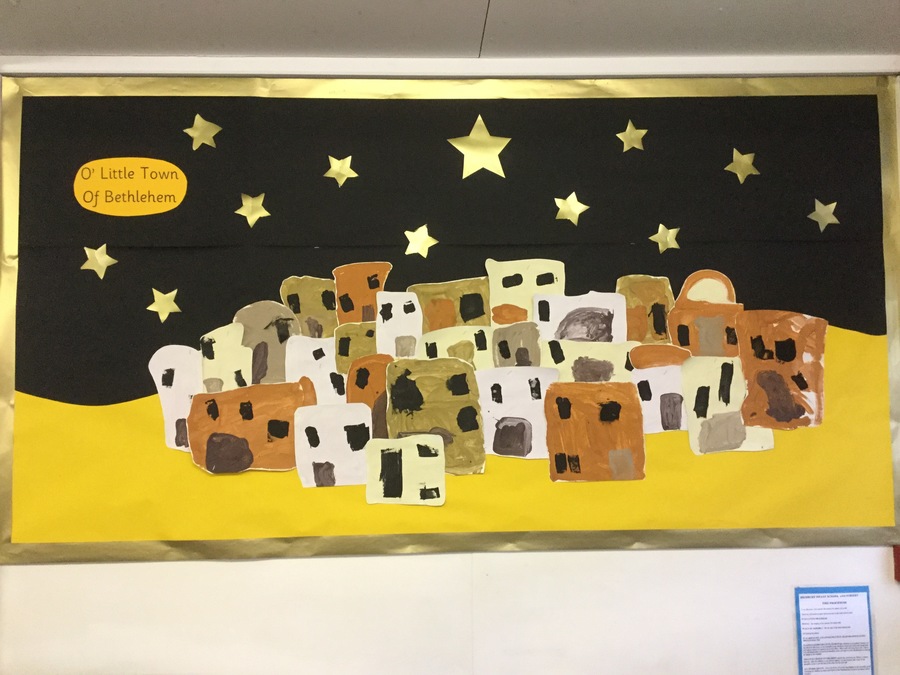 Autumn 2 2017
We learnt about Remembrance Day. We used the computers to draw pictures of poppies. We also made felt poppies and wrote instructions on How To Make A Poppy.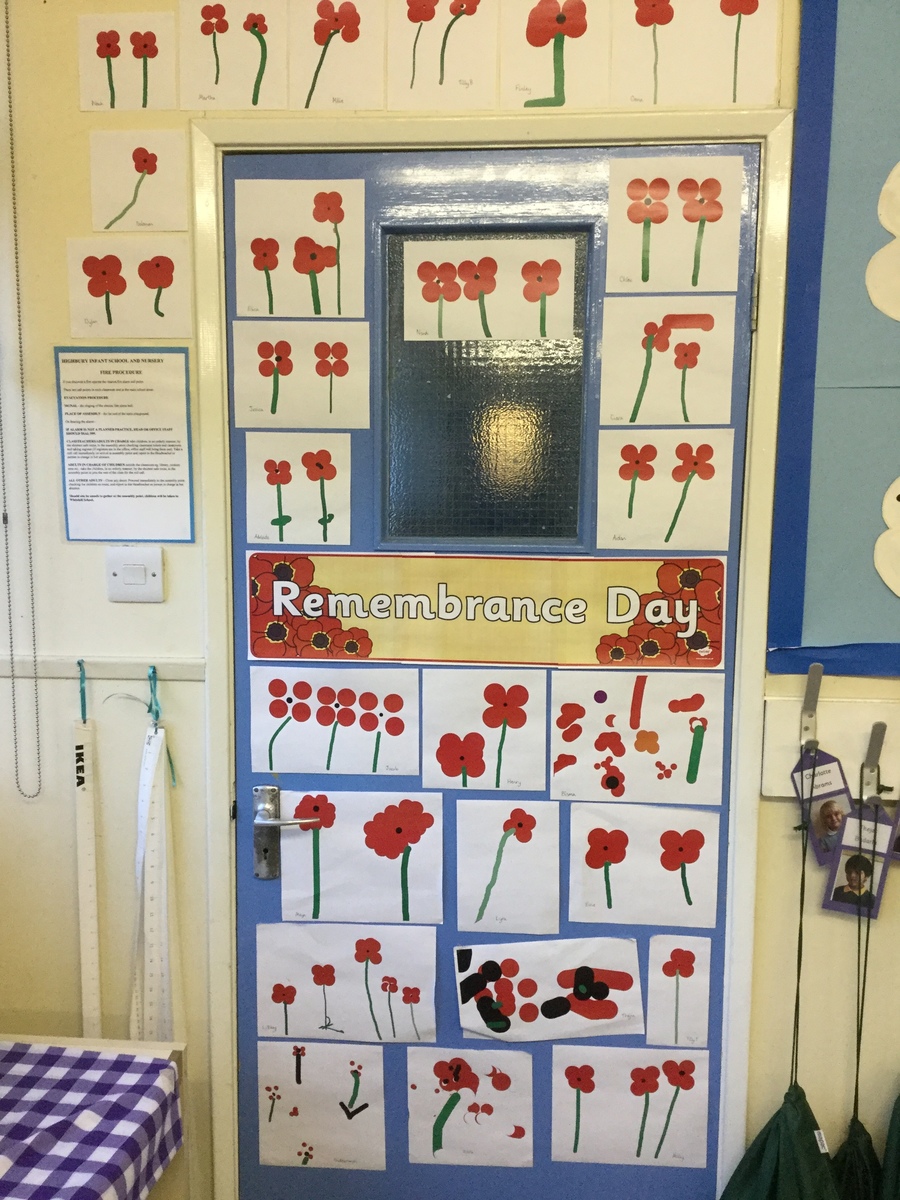 Autumn 2 2017
During our topic on celebrations the children enjoyed making fireworks pictures on the computers.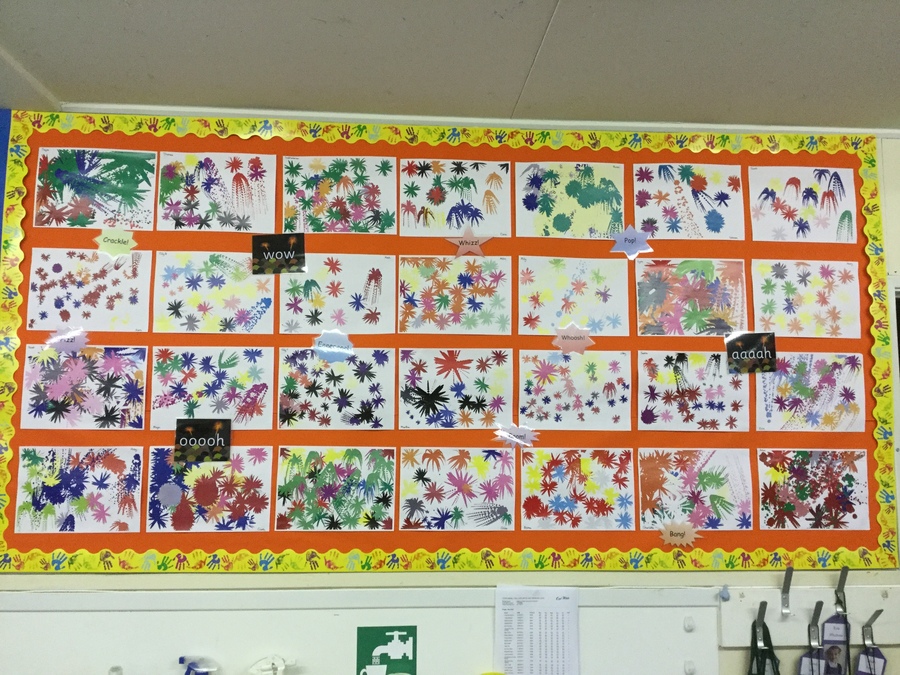 Autumn 1 2017
Welcome to Purple Class
The children have enjoyed painting self-portraits. They have also made hand prints and written their names looking carefully at the size of the letters and remembering to use a capital letter to start their name followed by lower-case letters. Who has the biggest hands? Who has the longest fingers? Who has the smallest hands?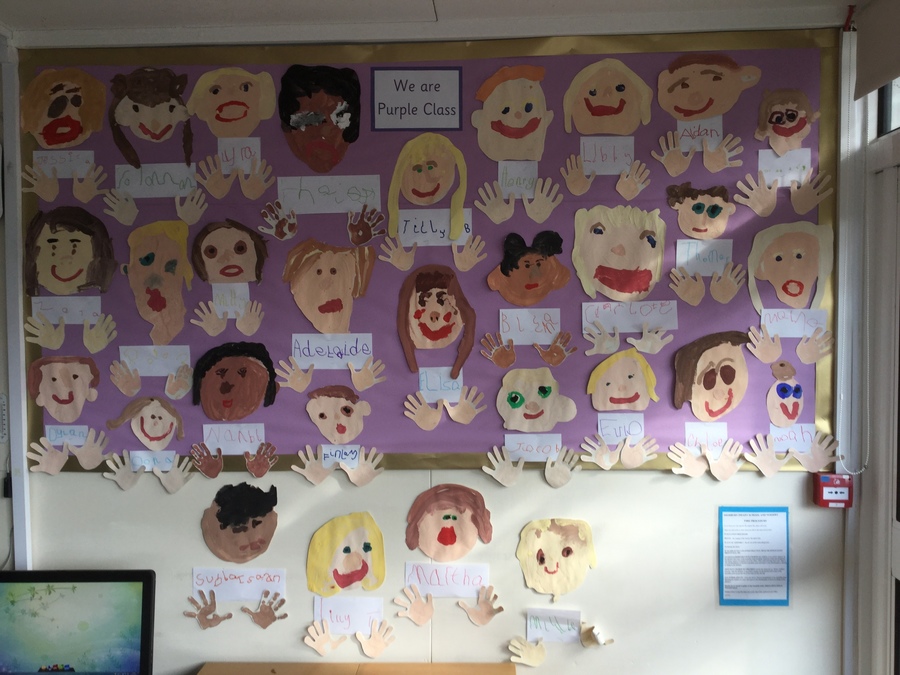 Summer 2 2017
We started the second half of the Summer term with an exciting trip to Haverings outdoor centre. Safari Stu brought some of his amazing animals for us to look at, touch and even hold. After that we went for a lovely walk through the woods looking at the different types of trees and listening to birdsong. We saw some stinging nettles that were taller than most of the children. There was lots of wildlife to look out for including bees, butterflies, beetles, birds and squirrels. We had our picnic lunch then went on a minibeast hunt with magnifying glasses and bug pots. To end the day we played on the grass area. Some children wanted to pop bubbles, others climbed trees or made 'potions' using leaves and sticks, some played with beanbags or footballs and some were so tired they just sat on the grass and relaxed. Everyone had a really fabulous day.
Summer 1 2017
The children have enjoyed learning about minibeasts. First we looked at ladybirds, noticing the symmetry of their wings. We also learnt about doubling and halving. We used clay to make our own ladybirds. Next we learnt about spiders. We were amazed to discover that some spiders have eight eyes as well as eight legs but some spiders don't have any eyes at all. When we found out about snails we learnt that the eyes are on the two long tentacles. The short tentacles are used for feeling and smelling. Next we learnt about caterpillars and butterflies. We were lucky enough to have some caterpillars in our classroom. We watched them get bigger and bigger until eventually they wrapped themselves up in a cocoon. After about two weeks beautiful butterflies emerged. Their wings were crumpled and damp at first but soon dried. We released the butterflies near some flowers and wished them a happy life. The last minibeasts that we found out about were bees. We looked at some honeycomb and tasted some delicious honey. We also handled beeswax.
Spring 2 2017
The children are enjoying learning about books. We began by looking at two animal books, Brown Bear, Brown Bear, What do you see? and Elmer. We discussed the colours of the animals in the books and compared them to natural colours of animals. The children designed their own elephants and this has made a colourful display.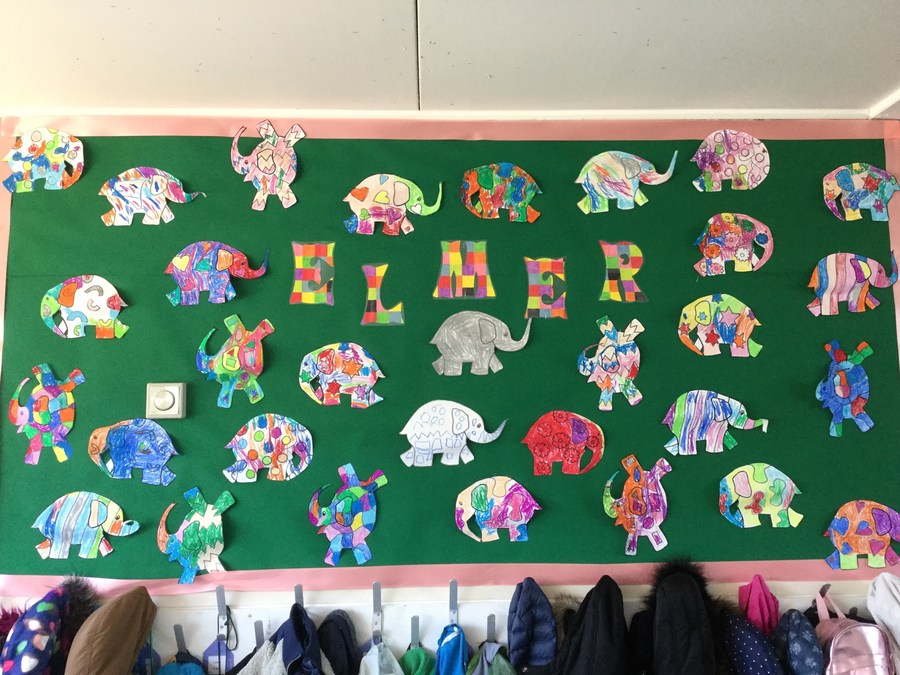 Book week was a lot of fun. The children enjoyed dressing up as their favourite book character. They were mesmerized by Funky Fairy who took them on a magical adventure using just their imagination. A visit from two author/illustrators led to some beautiful owls being drawn by the children.
Our role-play area has now been transformed into the Three Little Pigs' brick house, complete with a big pot on the 'fire' just in case that cheeky wolf should show up. The children are very keen to act out the story with their friends.
Spring 1 2017
Purple Class enjoyed learning about colours. We learnt about the primary colours red, yellow and blue. The artist, Mondrian, studied these colours. We looked at one of his paintings and tried to replicate it using black straight lines which crossed to form squares and rectangles. We then chose which shapes we wanted to fill with the different primary colours. We think they all look fabulous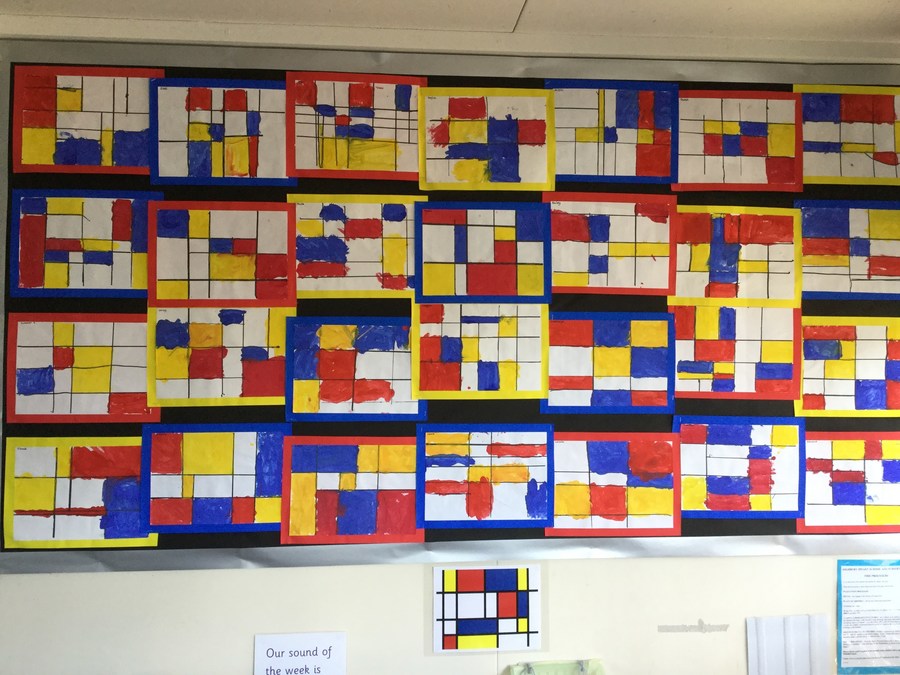 We studied Kandinsky's Squares with Concentric Circles. Each child then had a square of paper onto which they painted their own concentric circles, choosing the colours they liked. Each square is lovely on its own but, when they are arranged all together, the result is stunning.