Purple Class 2018/19
Autumn 1
Welcome to Purple Class! We are pleased to say that every member of purple class has settled in well and very few tears have been seen. The tears we have seen soon turned in to happy smiley faces. All of the children are taking part in getting to know you activities, which are helping the children to make new friends. We are reminding children of school rules and taking this opportunity to help the children get to know the school.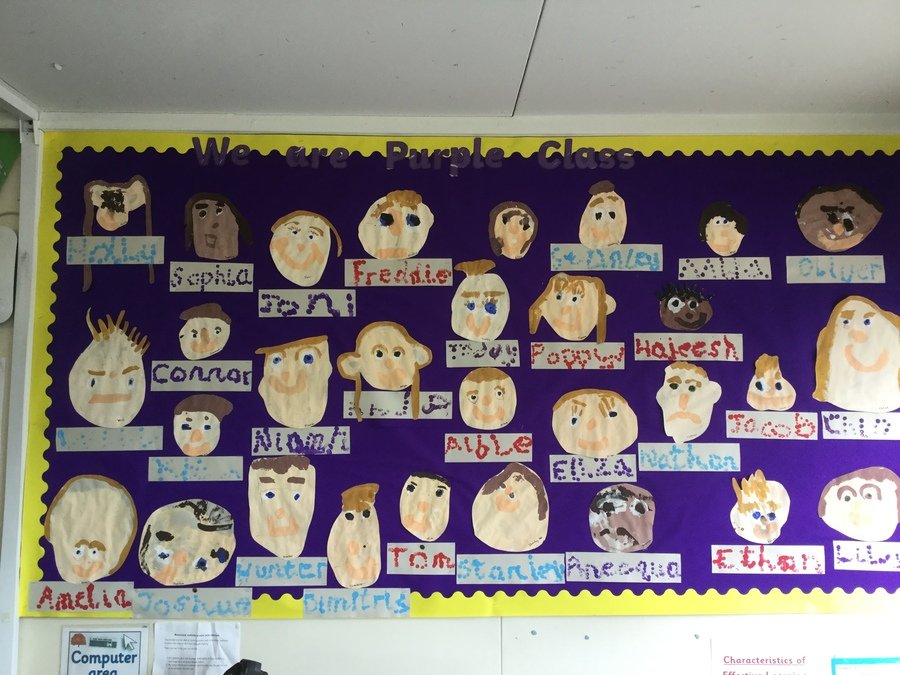 Our first week in Purple Class
In Purple Class we are having a display every week on one colour. The wc 17th September) our colour was purple. The wc 24th (September) our colour was red. The wc 8th October our colour was blue.
As well as a display on colour, we will also be having a sound of the week. The wc 17th September our sound was 's'. The wc 24th September our sound was 'a'. The wc 8th October our sound was 't'.
During multi-coloured week, we did observational drawing of fruit. We chose a fruit and looked carefully at it in detail. We used oil pastels. We then did an observation drawing of the fruit all together, using the drawing pencils.
Summer 2 2018
We have had a very busy half term starting with our Ugly Bug Ball. The children really enjoyed dressing up and all looked great in their costumes. Thanks to parents for all their hard work in making the wonderful and varied outfits.
We then went on to our new topic Off We Go! The children sorted vehicles according to whether they travelled in the air, on land or in water. Next they learnt about air travel, including listening to a first-hand account of travelling on a seaplane. The children showed such enthusiasm and asked really good questions to find out everything that they wanted to know.
Next we looked at the history of land travel, and the children compared photographs of land transport from the past and the present.
During the fourth week we learnt about emergency vehicles and the children had great fun trying on a selection of police hats and helmets brought in by a parent who works in the police force.
On 5th July the whole of Foundation Stage embarked on a trip to Haverings. We had two coaches, one of which was a double decker. We were very lucky with the weather as it was beautiful and sunny, if a little warm! The children had great fun taking part in a carousel of activities throughout the day. Purple Class started off in the woods. We wandered slowly through the dappled trees listening to the birds and taking in nature. We had a little bit of extra time so we went back into the woods and climbed on a felled tree.
Next Purple Class played on the grass. We used beanbags and hoops to play with our friends. The adults blew bubbles and the children enjoyed popping them. After that we all washed our hands and sat in a circle in the shade of a big tree to have our lunch. It was a lovely calm time when the children ate their picnic and chatted with their friends whilst renewing their energy.
Straight after lunch Purple Class split into two groups. One group went to the small fire and toasted marshmallows to put between two biscuits to make smores whilst the other group made bookmarks by sticking natural materials which they had found onto a strip of card. The groups then swapped places.
Our last activity was bug hunting in the meadow area with the magnifying glasses. Lots of the children also climbed into a hollow made where several trees had grown closely together. It looked like a little treehouse.
Before we knew it it was time to get back onto the coaches to return to school. Great fun was had by all and I'm sure the children slept well that night!
I think the enjoyed had by all can be summed up by one child who said "I want to LIVE at Haverings!"
Summer 1 2018
We have begun our topic on Minibeasts which the children are very excited about.
They have learnt that all insects have six legs and three parts to their body - a head, a thorax and an abdomen. They have found out about ladybirds and have learnt that there are lots of different types. They discovered that ladybirds produce a smelly goo which stops birds and animals from wanting to eat them. Ladybirds are also helpful in the garden by eating pests.
Our mathematical focus has been doubling and halving. Some of the children have found this difficult so practising at home would be beneficial for them.
We have now moved onto caterpillars and butterflies. You may have seen the caterpillars in the classroom. They arrived measuring a tiny 4mm in length and quickly grew to an average size of 38mm. They are now (14/5/18) all in their chrysalis state. We occasionally see them wriggle quite dramatically as their transformation happens within their cocoon. The children are eagerly awaiting their emergence as butterflies.
Spring 2 2018
We have continued our learning about books and stories during the second part of the Spring term. The children have been challenged to match letter names to letter sounds. They painted pictures of things beginning with each letter which we have made into a working wall display to support literacy.
The children also took great pleasure in telling us about their favourite books. If you haven't had a chance to view this on your child's Tapestry account, please do so; I'm sure you will all be very proud of how well they performed on camera.
The role play corner (now linked to Room on the Broom) is very popular, with the children using the masks to take on a new persona and act out the story. The picture shows the part when the cat, the dog, the bird and the frog emerge from the swamp to scare off the dragon who is trying to eat the witch. The children have also been writing spells and turning us into frogs, princesses and all sorts of other things.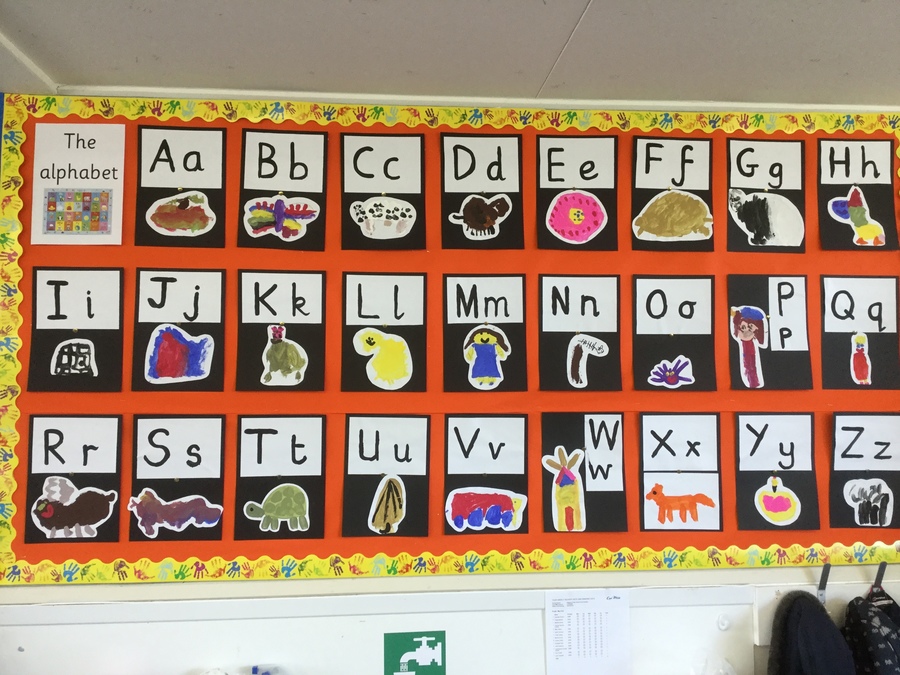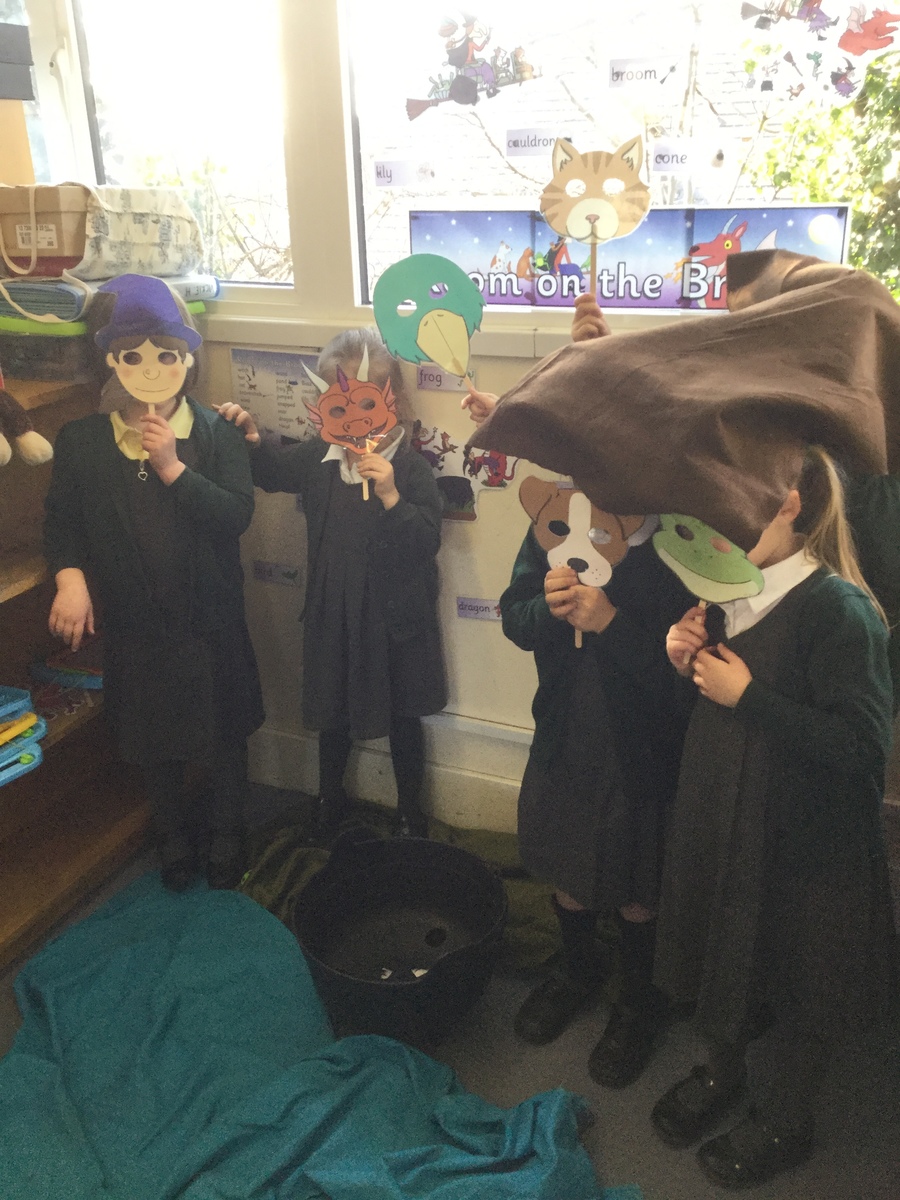 The children are enjoying practising our assembly, Mrs Lather's Laundry. We hope you enjoy it too. I'm sure some of you know the Washing Machine Song as well as the children do!
The children designed and made their own socks. They are all slightly different but all brilliant. Lots of skills were involved including joining fabric together in different ways, transferring designs from paper to fabric, measuring, symmetry, matching colours and cutting felt.
We really enjoyed our Forest School day with Caroline. Although we had a bit of a rainy day, our new waterproof trousers kept uniforms (mostly) mud-free. We started by playing some games. The children particularly liked playing '1, 2, 3, where are you?' They called back "1, 2, 3, I'm here!" We then went exploring using binoculars, magnifying glasses and bug pots. Some children dug in the mud and made mud pies. Caroline used puppets to tell a story about Mr Wiggle then the children made stone bugs.
Spring 1 2018
We are enjoying our new topic on Books. We have learnt lots about owls by reading Owl Babies and The Owl who was Afraid of the Dark. We talked about how the baby owls felt when their mother left them alone to go hunting. We linked it to times when we have felt afraid. Some children were afraid of the dark just like Pip, the baby owl in the second story. We then thought about people who could help us when we feel scared or unsafe.
We then based our learning on The Three Little pigs. We learnt about materials and how bricks were made. We felt the weight of a real house brick. It was very heavy. We also learnt lots about money and paid for items in our class shop.
Our next book was a story from another culture - Handa's Surprise. As the animals kept taking fruit from Handa's basket, the story linked very nicely to subtraction.
Our last story before the half term holiday was about the Chinese New Year, Some children dressed up in Chinese costumes. Some joined forces with their friends and took part in a dragon dance to Chinese music. All the children did a great job of drawing and labelling some of the animals in the story.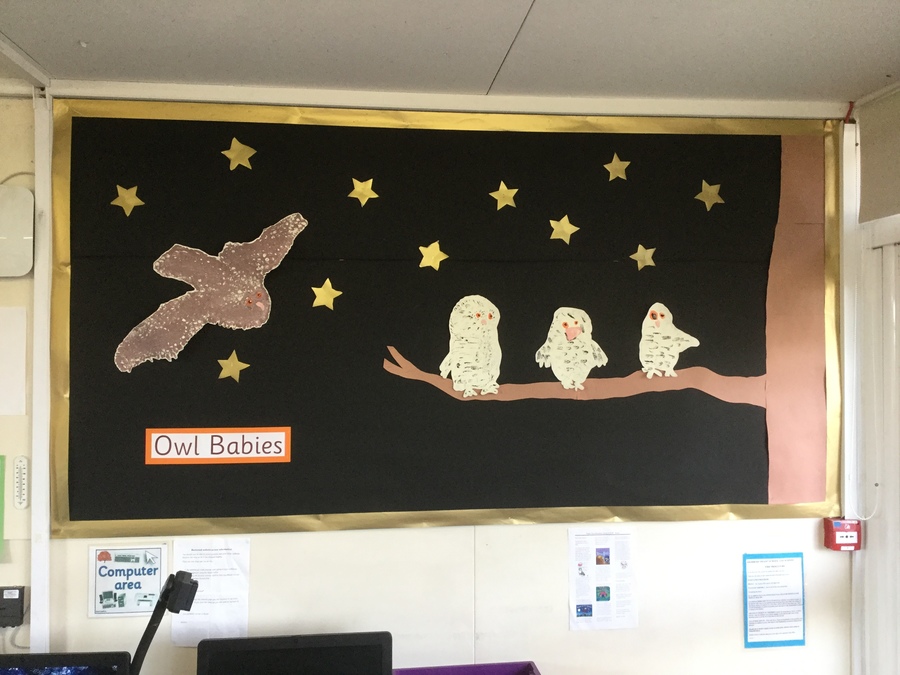 Before our visit from the Beast from the East we painted snowmen. We didn't realise our wish would come true or that the snow would last for such a long time.
Autumn 2 2017
We read the story of The Snow Lambs. Each child painted a picture of a sheep to put into our display in the dining room. The children also painted wintry trees, people and a dog. We learnt lots about colour mixing as we needed lots of different shades of green for the background.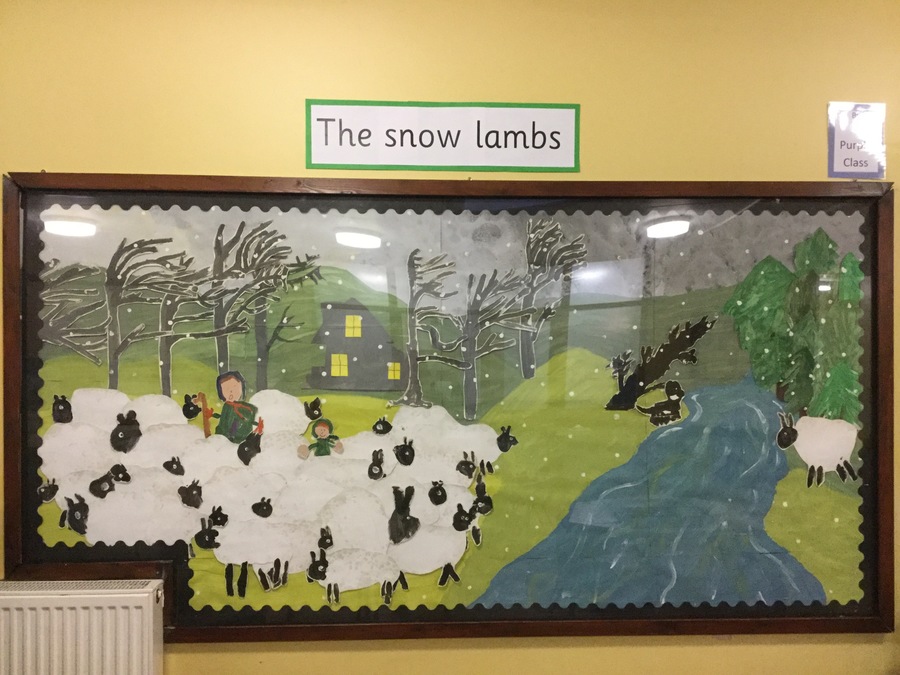 Autumn 2 2017
The children have done a super job of retelling the story of the very first Christmas. They have also each painted a house for our Bethlehem scene.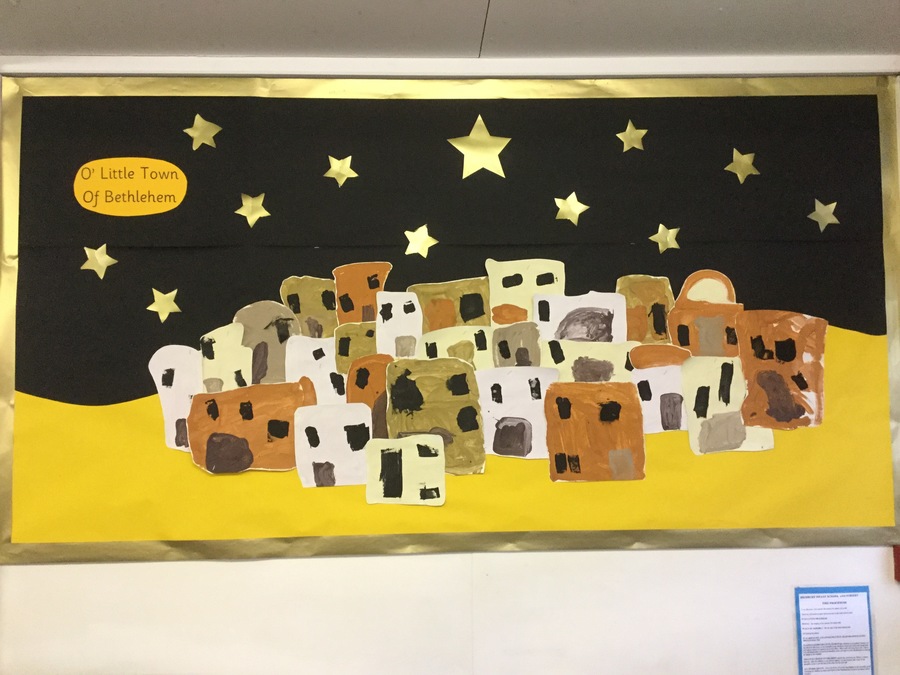 Autumn 2 2017
We learnt about Remembrance Day. We used the computers to draw pictures of poppies. We also made felt poppies and wrote instructions on How To Make A Poppy.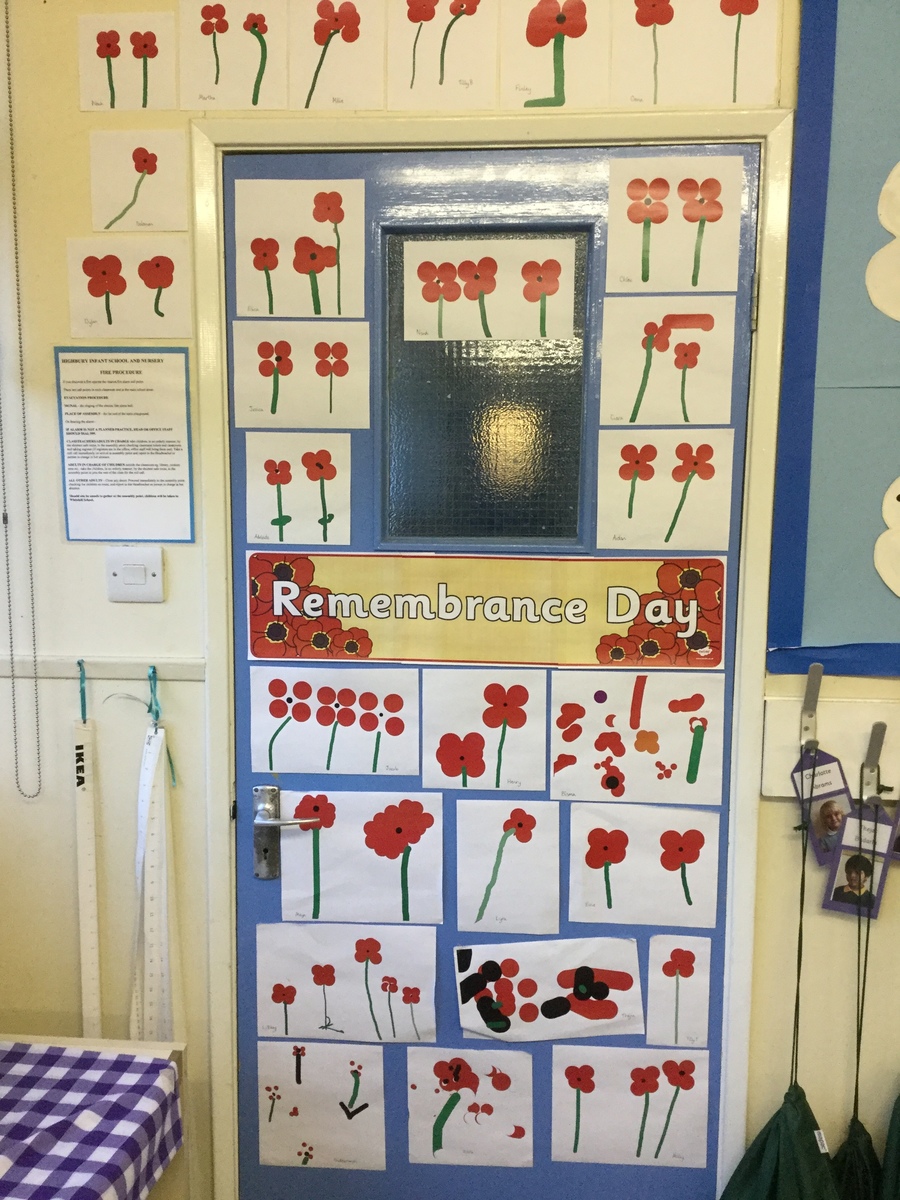 Autumn 2 2017
During our topic on celebrations the children enjoyed making fireworks pictures on the computers.