Red Class 2018/19
Spring 2 2019
We have begun the second half of the term by learning about transport using the non-fiction book 'How We Get Around'. We have learnt about transport from the past and also sorted different vehicles by where they travel.
We read the non-fiction book 'Everybody Needs Water' and found out about how people from all over the world need and use water. It made us realise how lucky we are to be able to turn on a tap and get clean, fresh water to drink. Some people have to drink dirty contaminated water.
We then thought about lots of different ways that we use water - We keep ourselves clean using water; we wash our clothes, plates, pots, pans, cutlery, floors, cars etc. with water; we use water for cooking and drinking; lots of factories use water; we use water to flush our toilets and we use water for having fun in our paddling pools, swimming pools and for our water pistols.
We listened to the story of Noah's Ark. We learnt a new song about how Noah built his ark. Some of the children then made up their own songs and performed them to the whole class in our Red Class Has Got Talent show.
We worked as a team to create a fantastic new Noah's Ark display on our biggest classroom board. We hope you like it!
We made a new display using our super symmetrical eggs. It was quite tricky to make the pattern exactly the same on each side. We also made paper baskets in which to put our Easter treats. We made and decorated Easter cakes.
We made our cute Easter chicks by wrapping pieces of mod-rock around a ball of newspaper. We noticed how the dry strips of mod-rock were very powdery. When we put them into a tray of water they became a bit slippery and we could smooth them over the ball of newspaper. After a few hours, when the water had dried out, the mod-rock spheres were quite hard. We then painted them and added eyes, a beak, wings and a tail. We think they are beautiful.
Spring 1 2019
Happy New Year! We have begun our new topic, Books. We are working on both fiction and non-fiction texts. Our first book was 'Time to Play' which showed beautiful photographs of children and their toys from around the world.
We also learnt about toys from the past. The children did observational drawings of their favourite toy. The musical teddy bear was very popular. We learnt that not all 'soft' toys were very soft. The yellow dog is stuffed with straw so he is not very cuddly. He is, however, completely adorable!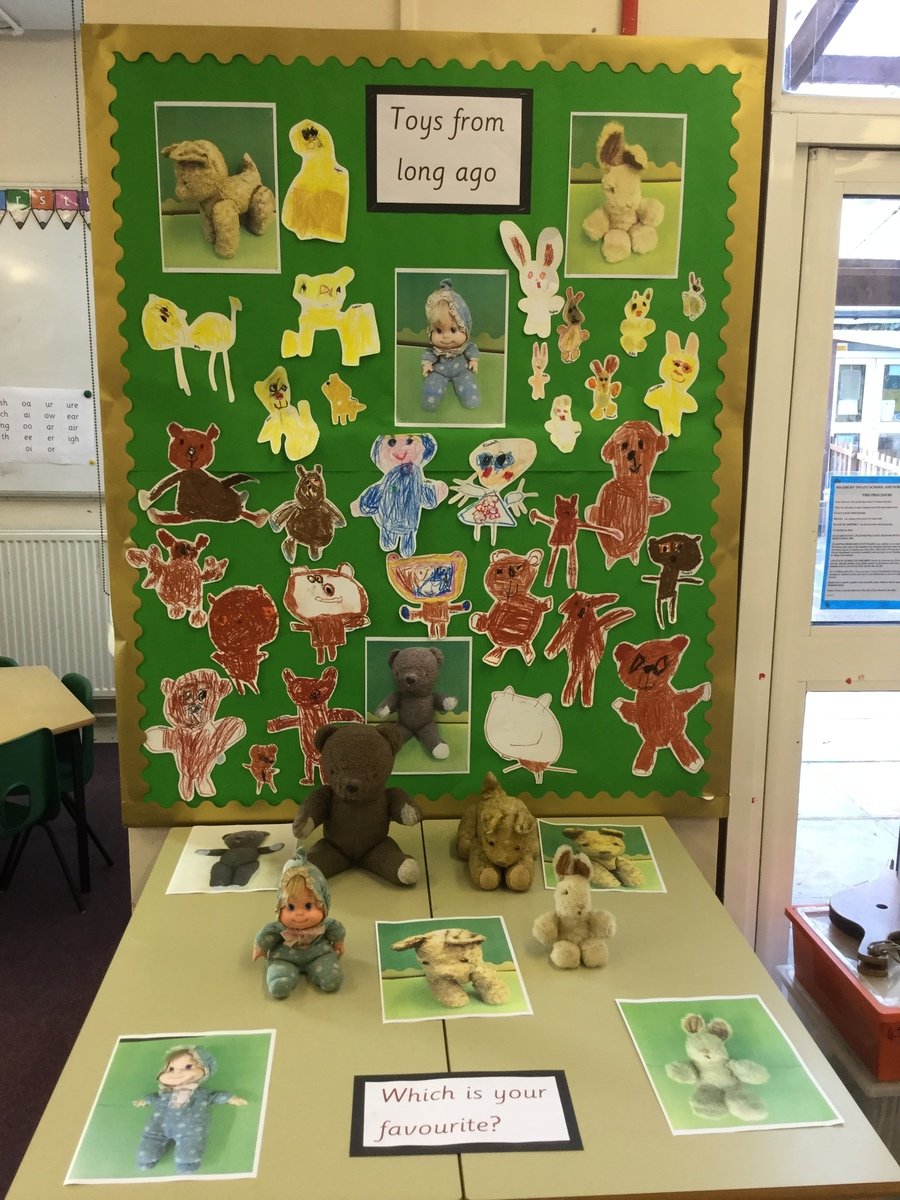 We then learnt about homes from around the world using the book 'A Place to Call Home'. The children really engaged with this book and we made a fantastic display showing rainbow houses from Kulusuk, Himba huts from Namibia, gers from Mongolia, Indonisian houses with towers and treehouses. We learnt that on Tonle Sap Lake in Cambodia people live in floating houses and have to travel in small boats to get to school. We also saw crowded flats and apartments within busy cities. The book, very sensitively, taught the children about city slums. Our fiction book 'There's a Boy Just Like Me' taught the children, through the use of beautiful rhyming text, how similar they are to all the other children around the world, including refugees.
We learnt about food from around the world using the non-fiction book 'The Food We Eat'. We discovered that there are over 40,000 different types of rice. We tried four different types - Basmati, pilau, rice pudding and rice crispies.
We also learnt about Chinese New Year. We are now in the Year of the Pig.
During the week before the half term holiday we learnt about clothes from around the world using the non-fiction book 'The Clothes We Wear'. We were all fascinated by the different traditions. We made a large display in the hall showing some of them.
Autumn 2 2018
Red Class really enjoyed their Forest Schools activities this half term. The waterproof trousers ensured that nobody was worried about getting their uniform wet or muddy; we could all just enjoy being in the outdoors.
Caroline and Holly from 'Down the Woods' ran the sessions which covered so many areas of the curriculum. The children were really excited. We played games, looked at different trees, leaves and bugs, made bird feeders, used a hammer to tap nails into chunks of branches, printed using leaves and other natural materials, listened to stories and made music. We plan on having some more woodland adventures next term.
We enjoyed learning about Diwali, Bonfire Night and celebrating birthdays. We had a lovely party for Red Ted with a birthday tea, birthday cake, pass the parcel, and dancing. we all made party hats to wear. Red Ted enjoyed his party.
We then learnt lots about Christmas. We made displays in the classroom to show the different parts of the Nativity story as well as a snow scene and a Christmas tree made entirely from colourful stars. We also wrote letters to Santa, made gingerbread people, used hand prints to make Christmas cards for our families and made a calendar using finger prints in different colours to represent the changing leaves on a tree during the four seasons of the year.
For our hall display, Wrap Up Warm, we painted matching hats and scarves. The display looks really bright and cheers us up on these cold, dark winter days.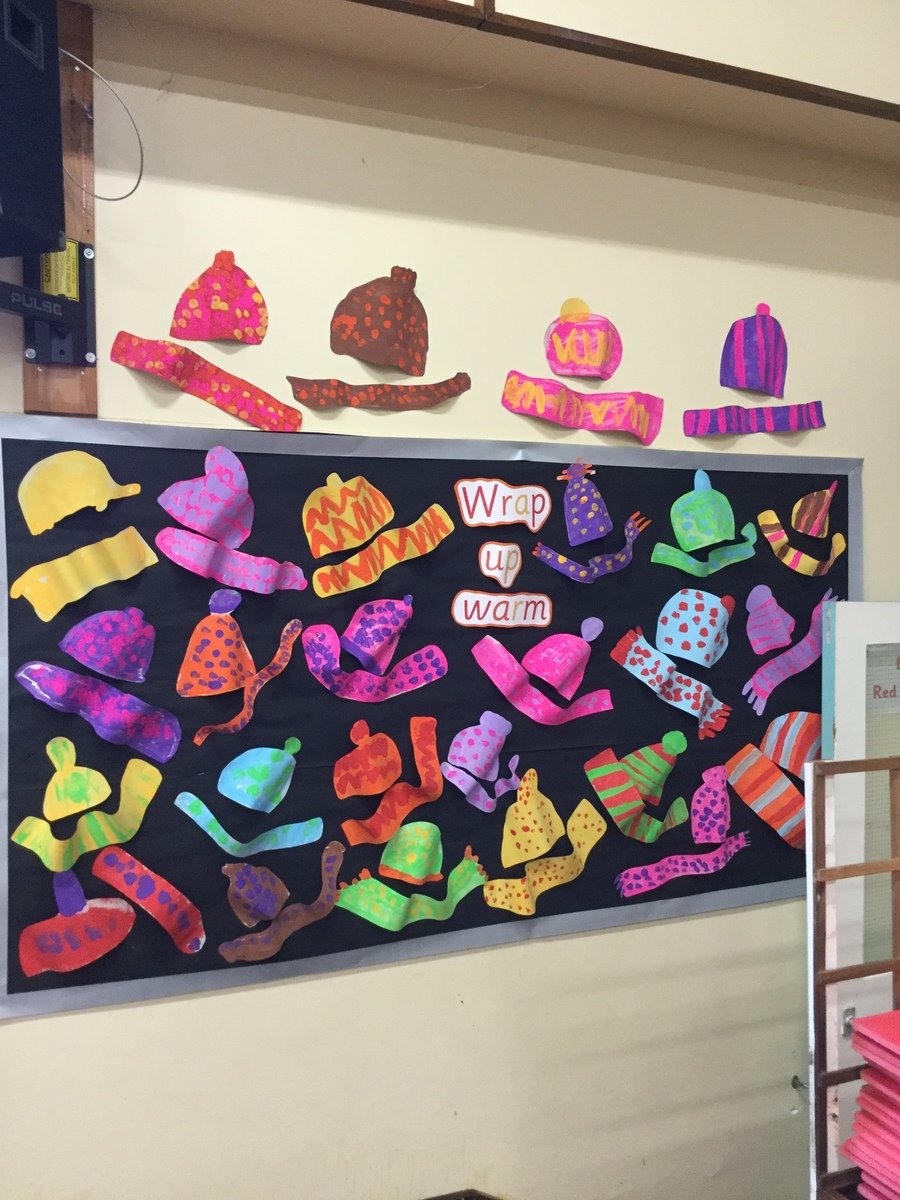 Autumn 1
Welcome to Red Class! We are pleased to say that every member of Red Class has settled in well and very few tears have been seen. The tears we have seen soon turned in to happy smiley faces. All of the children are taking part in getting to know you activities, which are helping the children to make new friends. We are reminding children of school rules and taking this opportunity to help the children get to know the school.
Our topic this half term is Colour.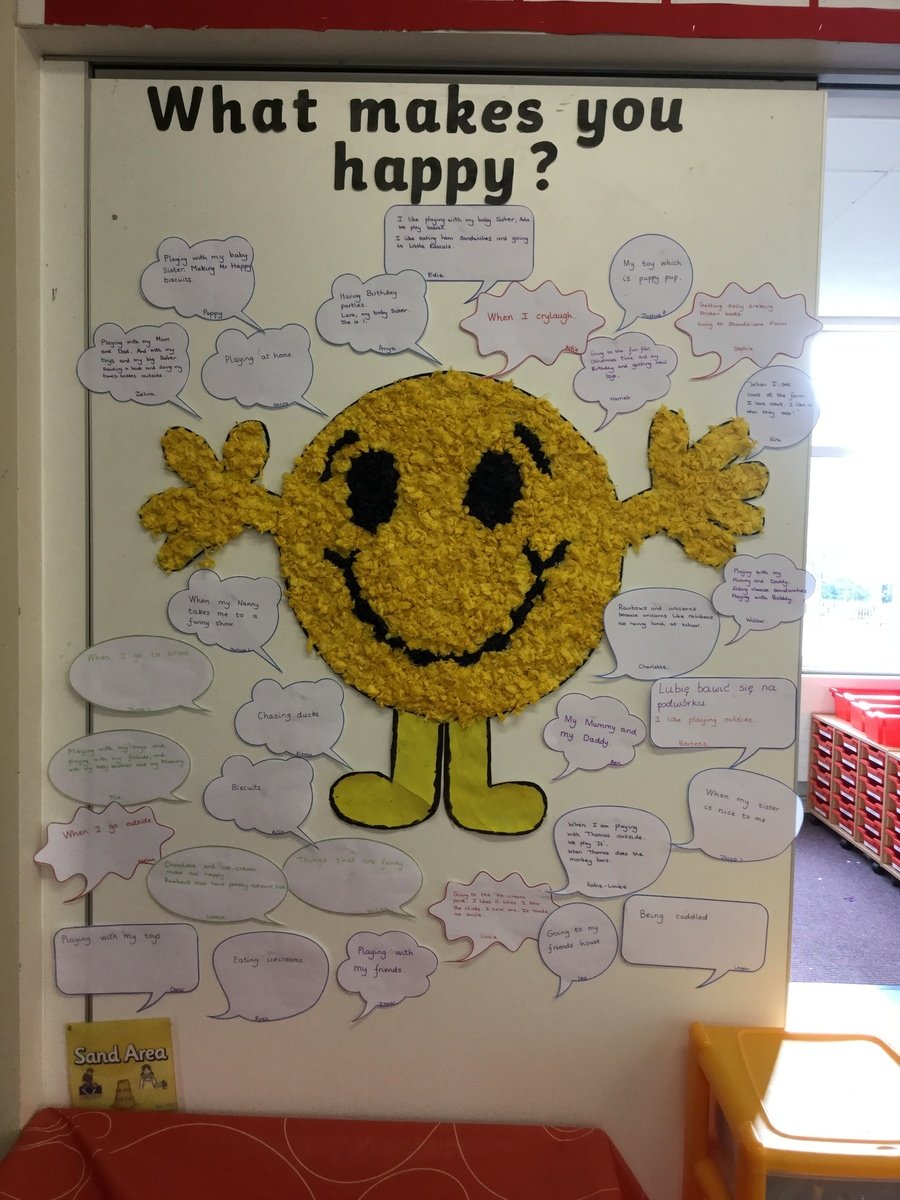 During yellow week, we talked about what makes us happy. We each told the adult in our class something that makes us happy. They wrote this on a speech bubble.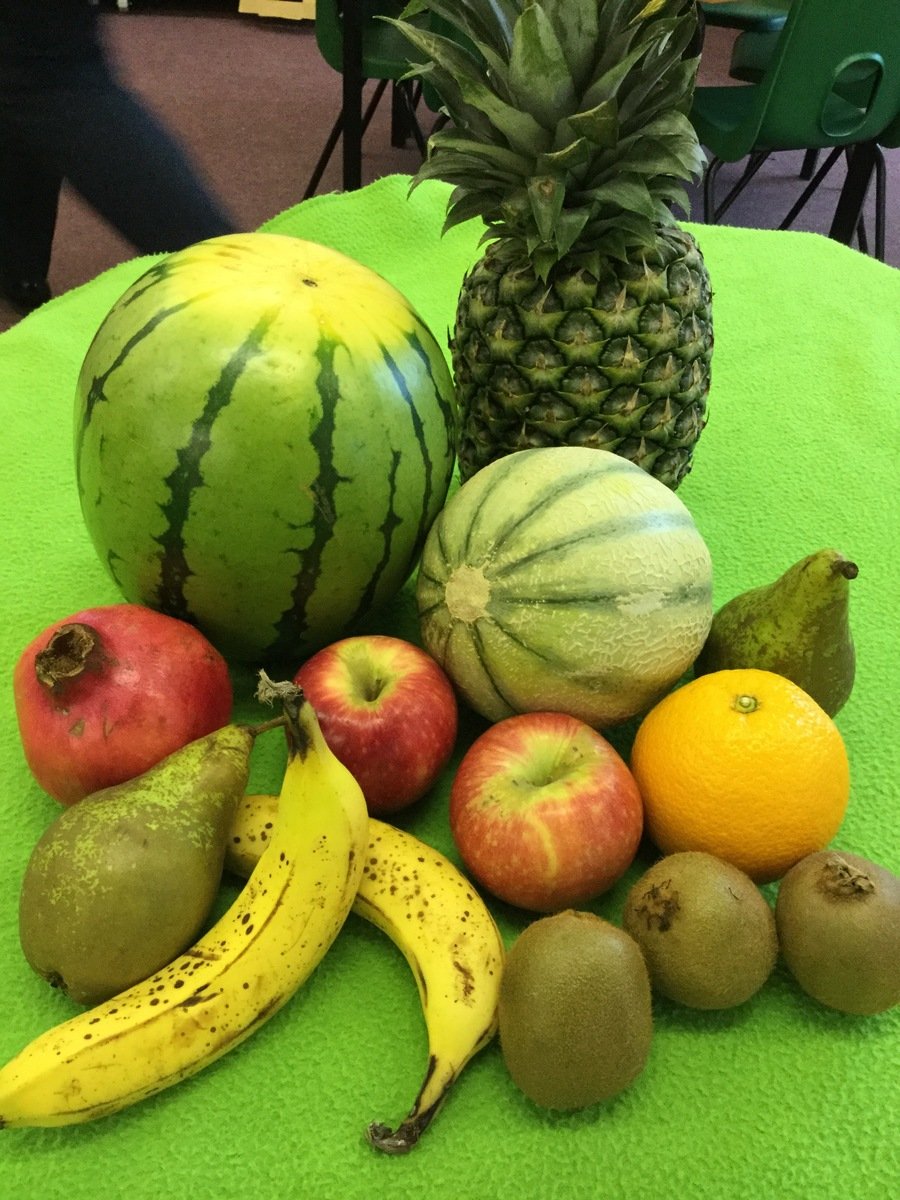 During multi-coloured week, we did observational drawing of fruit. We chose a fruit and looked carefully at it in detail. We used oil pastels.
Summer 2
Our ugly bug ball
We dressed up as minibeasts. We had a parade around the hall with the children in the morning nursery. We played a game where we had to move in the style of the various minibeasts. Then we listened to music and matched our movements to the music's tempo.
During our topic of dinosaurs we read a book called The egg by M.P Robertson. It is a story about a boy who finds a giant egg inside his chicken coop. The boy looks after the egg and when it hatches he discovers it's not a chicken inside...it's a dragon! We decided as a class we wanted to make eggs. We each made a magic egg out of clay and using our imagination decided what might be inside. We each wrote a piece of writing about our egg to describe what it looks like and what was inside.
Summer 1
In Red Class we have been planting garden peas. We used an old toilet roll tube to recycle instead of using a plastic pot.
All of foundation stage will be taking part in a 12 week programme called Play-trition. This programme is designed to teach children to understand and make healthy lifestyle choices. They will be introduced to characters called Joe and Emma and will be given the opportunity to explore different foods, find out where they come from and learn what's healthy and what's not. The children will also be told about the importance of eating breakfast, how to keep our teeth healthy and how food gives us energy. This is a fantastic opportunity for the children and I am sure they will really enjoy it.
In PE we have been practising ball skills. We have been throwing and catching, kicking and dribbling.
This half term we are lucky enough to have Mr Sharp in our class to teach some design and technology. He will be working with the children, teaching them skills such as; measuring and sawing using different materials. Their end goal will be to make a vehicle.