Nursery Class
Autumn Term 2
This half term our topic was 'Light and Dark.' We also learnt about the different festivals that our school community may celebrate.
We began by learning about Diwali, the Hindu festival of light!
We made clay divas by first rolling the clay into a ball, then by pushed our thumbs in to make a hole and finally by pinching the clay to make the hole big enough for the tea light to fit. Finally, we decorated our diva with sequins. We also practised our fine motor skills by drawing Mehndi patterns, and had the opportunity to create a Rangoli pattern, go on a diva number hunt and explore other number-themed Diwali games.
The next celebration that we learnt about was Bonfire Night, and we talked about the different colours that fireworks make and the sounds that they create. We have been very creative, using different techniques to make fireworks. After Bonfire night we drew pictures of fireworks in the night sky with chalks and created more with paint, salad spinners and recyclable materials.
We learnt a firework song, 'On Bonfire Night at 5 o'clock I Took my Money to the Firework Shop' and enjoyed making the firework sounds from the song.
As part of our learning on Remembrance Day, we each made a poppy which we wore during the Nursery session. A candle was lit and we sat quietly and thought about all the soldiers who had fought for us.
We thought about the different things that we are able to do during each day, both in Nursery and when at home with our families. We explored making shadows and had fun in our dark den. We also learnt that some animals are nocturnal and sleep during the day and are awake at night. We enjoyed lots of stories about these animals, especially stories about owls.
We had a fun pyjama day party enjoying games, a hot chocolate snack, stories by torchlight and a short movie.
Autumn Term 1
Welcome to our Nursery!
Our topic this half-term will be 'All about Me' We will also be learning about the season of Autumn and festivals that happen during this season.
We look forward to getting to know the children as they settle into the Nursery. Look how busy they have been getting to know each other and exploring their new environment.
We all painted a picture of ourselves, carefully choosing the colours to match our eyes and our hair. Don't we look amazing!
In turn we shared our 'All about Me' books with our key worker that we had made at home, talking about our family, our favourite toy and something that we did during the summer.
As our confidence developed, we explored areas in the school outside of the Nursery. We went to the hall for PE and to play ring games, to the computer suite to practise using a mouse to interact with different programmes (in the Nursery we can use a mouse or the touch screen and we visited Highbury Woods to look for signs of Autumn. We really enjoyed playing hide and seek.
We learnt about our senses and tried lots of different activities. Some using just one sense at a time and others that used different senses together. Look at some of the fun that we have had!
During the half term we have been continuing to develop our independence skills; finding our own coat peg, using the toilet and washing our hands, choosing where we want to play and learn during CIL and we were set a challenge to learn to put on and fasten our coats. If we are successful, we can put our photograph on our 'I Can' display board.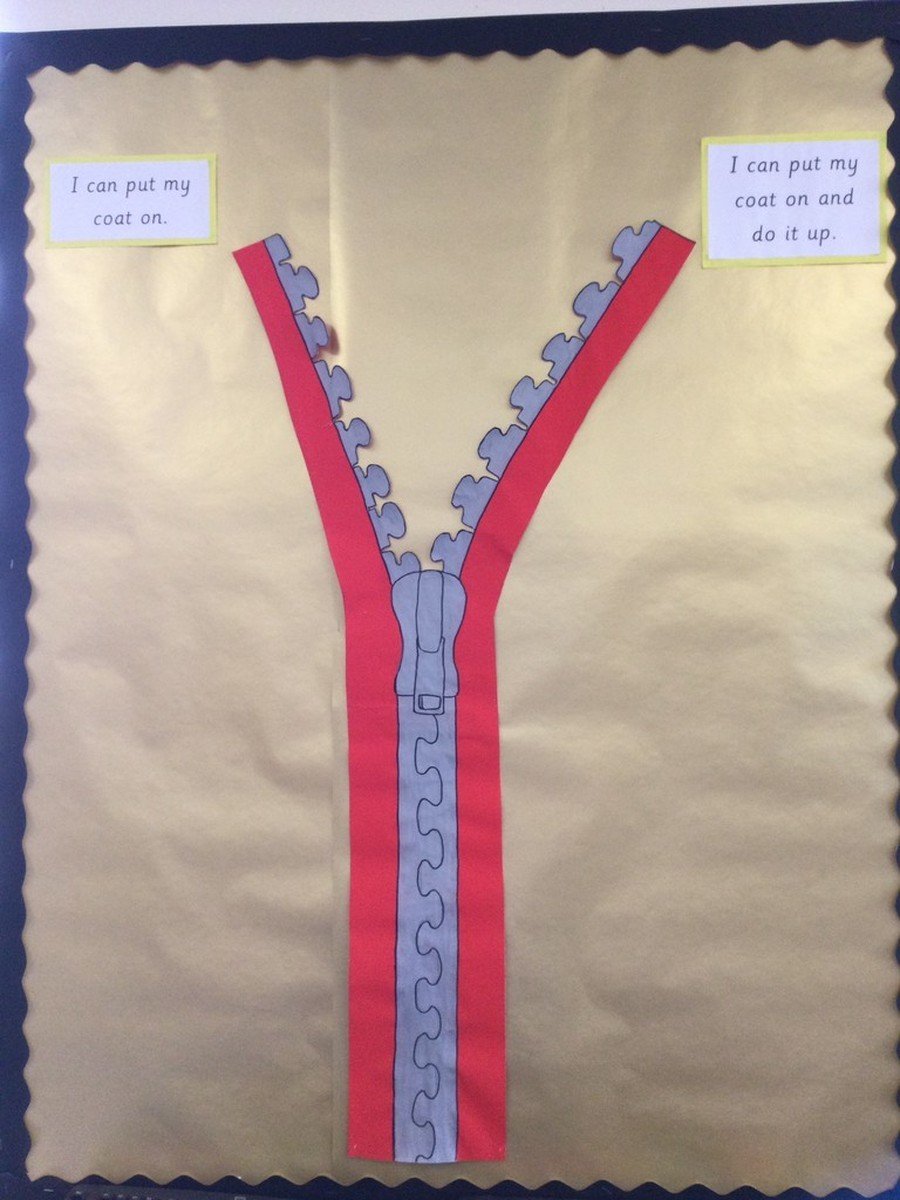 Summer Term 2
This half term our topic has been 'The Great Outdoors.' We took part in lots of fun activities both outdoors and indoors.
We visited Highbury Woods again, and whilst there, we looked at the changes to the environment since my last visit and looked for mini-beasts. Although we were lucky and found some, we were challenged to go on a mini-beast hunt with our families to see if we could find some different ones. We found out about the habitats that mini-beasts prefer and I matched the mini-beast to its habitat. We learnt about the features of different mini-beasts by sharing non-fiction books and watching some information clips on the computer. We listened to lots of stories about mini-beasts and learnt some new songs.
We helped to create displays for the Nursery classroom. For one display, we painted pictures of our favourite mini-beasts and for another we wrote our names and added it to a graph above our favourite mini-beast. The finished graph showed how many people in the class liked each type of mini-beast. We also created snail pictures in the style of the artist Henri Matisse.
We listened to the Julia Donaldson story 'Superworm', and thought about something that we are good at and drew a picture sharing our thoughts and ideas. We practised my measuring skills, measuring pretend worms and then sorting the worms into size order.
'The Very Busy Spider' by Eric Carle was our focus book when learning about spiders.
A highlight of this topic was having some live caterpillars delivered to Nursery and being able to observe the changes as they grew, made chrysalises and emerged as beautiful butterflies. The pattern on a butterfly's wings is symmetrical and we explored making symmetrical patterns on the computer and using paint. We went on several Cosmic Kids mini-beast yoga adventures and I had lots of fun enjoying the Nursery garden too.
Summer Term 1
Our topic this half term is 'Let's Pretend' and after discussing with the children about what they would like to learn about, our focusses will be; princes, princesses, castles and knights, space, and pirates.
We have listened to different stories about princes and princesses including; 'The Princess and the Pea' and 'The Frog Prince.' We each designed a mattress to make a really high bed just like the princess slept on in the story, for our display board. We learnt about the life cycle of a frog - frogspawn, tadpoles, froglets and frogs. We had the opportunity to join in with some activities linked to the stories including collecting and sequencing the runaway peas (numerals 1-10), moving peas (pompoms and beads) from one pot to another using tweezers, designing and making a crown, and practising my throwing and catching skills using a 'golden' ball like the girl in The Frog Prince. We learnt a new song called 'There Was a Princess Long Ago', which included some signing. During Pen Pals we have learnt about making dots and we practised making these on a crown that had been painted on the pavement.
Following on from princes and princesses, we looked at castles, knights and dragons.
We learnt some key names for parts of a castle including; the battlements, the keep, the drawbridge, the arrow slits, the portcullis, the gatehouse and the moat. We helped to create a 'class' castle with Mrs Nelson, using recyclable materials learning how to shape and join different materials together so that a planned effect could be reached.
We learnt that a long time ago knights used a shield for protection. The shields were decorated with symbols that were special to them and the decorated shields helped them to be recognised in battle or during jousting tournaments. We designed my own shields and created a 'pretend' invitation for a ball (banquet), choosing a design for the front and a message inside showing who we wanted to invite, the day and the time.
During PE we practised a medieval dance routine. It was tricky especially as the music got quicker and quicker before slowing down!
Next we blasted off in our rockets as we discovered all about Space.
We listened to some space themed stories, including 'On the Moon,' 'The Way Back Home,' Zoom Rocket Zoom' and 'Whatever Next' and joined in with space themed songs and rhymes. During PE, I took part in a space themed obstacle course. I had to go over, under, around and through objects and finally I had to collect a piece of space rock in the target, so that I could take it back to earth with me.
During CIL we had the opportunity to explore different space themed activities including; the space small world, making space pictures using stencils or 2D shapes, making a spaceship, rocket or lunar vehicle using the recyclable materials or the construction toys, making a moveable astronaut, playing in the space themed role play or creating an alien using playdough.
Lastly we jumped aboard a pirate ship as we learnt all about Pirates.
We learnt about what pirates did, the names of some pirates, and what they wore and why. We learnt some new songs - 'I'm a Pirate', 'The Pirate Song', and 'When I Was One I Sucked My Thumb' - and also listened to a selection of pirate stories; 'Pirates Love Underpants', 'The Pirate Cruncher', 'The Pirate Next Door', 'Ten Little Pirates', 'Captain Sparklebeard' and 'The Night Pirates'.
We had the opportunity to take part in a variety of activities linked to pirates, including making boats and testing whether they floated or sunk, creating a telescope, hunting for treasure, playing with the small world sea creatures, taking part in a pirate-themed Kim's game and ordering pirates by height.
We also practised my balancing skills by 'walking the plank' and my maths skills by adding the correct amount of treasure to match the numeral on the treasure boxes.
Real highlights from the two weeks were our 'Pirate Day' - which was enjoyed by both the children and adults alike! - and searching for the hidden treasure by following a set of clues.
Spring Term 2
Our topic this half term was 'Once Upon a Time'. Our maths focus will be 'Number' and our phonics focus will be consolidating Phase 1.
The first book that we focused on was 'Goldilocks and the Three Bears'. We created our own story maps, a class display of the story and made melting moments using oats. In Literacy we thought about what we would like to share with Highbury Bear if he was able to come to our houses, and recalled facts about the different types of bears when looking at non-fiction books. We also measured bears using a non-standard measure and enjoyed going on a 'We're Going on a Bear Hunt' yoga adventure.
We had lots of fun during Book Week. We joined in with the rest of the school to dress up as our favourite book characters on World Book Day and also took part in lots of activities linked to stories by the author Helen Stephens. A highlight of the week was definitely our 'Masked Storyteller' event, in which each of the adults in the Nursery wore a character mask as they read us a story. It was tricky to tell who was who!
The next story that we looked at was 'The Gingerbread Man'. We did our own experiment to see which objects floats and which ones sink, and what happens when a gingerbread man is placed in the water. We correctly made predictions such as "it will sink" and "it will go soggy". We also looked at numeral and quantity when counting the buttons on gingerbread men.
The final story that we listened to was 'Jack and the Beanstalk', and took part in some activities linked to the story. Jack had some magic beans that grew very quickly. We planted some bean seeds in a small pot in some compost and had the opportunity to look after them and wait for them to grow. As a class group we planted some bean seeds in a clear plastic bag on a wet paper towel and we observed the changes to the bean seeds.
We also develop our fine motor skills as we threaded beads onto a pipe cleaner to create a beanstalk and as we used tweezers to move bean seeds from one container to another.
During this half term we also celebrated Mothering Sunday, Red Nose Day and Easter.
Spring Term 1
This half term our topic was 'My World,' and our maths focus was shape. In phonics we continued with activities from phase 1, developing our speaking and listening skills and building the foundations for reading and writing. It was a very different half term with some children accessing the learning from home with their parents and others learning in the Nursery bubble in school.
We started the half term recalling and sharing our experiences from the Christmas holiday period, a significant festival for many families.
We looked closely at where we live. We enjoyed listening to the 'Three Little Pigs' story and looked at different types of homes and talked about how they were similar and different. We explored our local environment finding our home, school and familiar places in Hitchin. We created our own imaginative town and role play shop. Keeping safe when out and about is very important, so we had a road safety day where we learnt about keeping safe on roads especially when crossing them. Finally, we moved a little further from our local environment to find out about London.
During the final week of term, we learnt about some more festivals that may be significant for people in our community; Chinese New Year and Shrove Tuesday. For Chinese New Year we watched some short video clips and looked at non-fiction books about the festival, and listened to the story, 'The Great Race' which explains how each new year is represented by a different animal . We developed our skills as we made Chinese lanterns and dragons, wrote Chinese numerals in shaving foam and found out which animal year we were each born in. We were all either cockerels or monkeys.
For Shrove Tuesday, our pancake races were a highlight. Tossing and catching the pancakes was tricky!
The next festival that we learnt about was Christmas. We listened to the Christmas story, learnt some new songs and rhymes, and performed these for our parents (virtually). We used many different creative techniques to decorate our Nursery and make gifts for our families.
We had fun at our Elf Day where the mischievous elf hid our name cards and we had to find them. He was also a kind elf and left us each a present. We also enjoyed having a Christmas party with lots of dancing and we also played the games; musical chairs, musical bumps, musical statues and pass the parcel.
The final festival that we learnt about was Hanukkah which is the Jewish 'Festival of Light'. We really enjoyed spinning the dreidel, a game that is traditionally played during Hanukkah.