Spring 2 2020
Our new topic for the second half of the spring term is Traditional Tales.
We have begun with The Elves and the Shoemaker. The role play area is now a very popular shoe shop.
The children have made some very cute little elves.
Spring 1 2020
Our new topic for the spring term is The Word Around Us. We started by learning about toys from around the world. We discovered that children everywhere enjoy playing football. Some children in poverty have to make their own footballs by filling plastic bags with discarded newspapers and other pieces of rubbish.
We then learnt about Chinese New Year. We watched some video clips of people preparing for their celebrations. We learnt a new song, Gung Hey Fat Choi, and the children made up their own actions to accompany it. They made red packets and learnt about coins. Making dragon stick puppets was a popular choosing activity and everyone enjoyed doing a dragon dance to some Chinese music in the hall.
The children enjoyed the story of The Great Race. We made a fantastic display to show the order in which the animals finished the race across the river.
The children were fascinated when listening to the book 'A Place to Call Home'. It taught us all about the different types of homes that people live in all around the world. It also, very sensitively, touched on the subject of refugees who have had to flee their homes to find safety.
Next we learnt about some of the different clothes that are worn in other countries from the book 'The Clothes We Wear'. Each child chose a picture in the book to copy. Together the pictures have made a beautiful and very colourful display in the hall.
We started the second half of the Autumn term learning about fireworks. We made firework safety posters.
We then went on to learn about Remembrance Day. We made felt poppies and wore them proudly on Armistice Day to observe a minute's silence.
We painted poppies and have made a beautiful display in the classroom. We learnt a little poem about Remembrance Day.
As Christmas approached we decided to make some soup for Santa's reindeer. The children developed their physical skills by cutting up carrots and brussel sprouts. They mixed these into a big bowl of water. We thought the reindeer might like our soup; it would make a nice change from plain carrots.
Every child make a felt stocking and decorated it with glitter. We made a cosy looking fireplace and hung all the stockings up around it.
Every Christmas tree is special but we particularly like ours made of stars. Every child coloured in several different sized stars using brightly coloured oil pastels. We then arranged them into a beautiful Christmas Tree.
Autumn 1 2019
Our topic for the first half of the Autumn term is 'All About Me'.
We painted self-portraits and used our fingers to finger paint our names. We chose our skin-tones from a selection of colours and used mirrors to look carefully at the colour of our hair and eyes, too.
We also visited the woods and gathered natural materials such as leaves and sticks. We then collaged the first letter of our name with the natural things that we found.
We also talked about our favourite things, including our favourite toys and colours. We each coloured a square in our favourite colour and used them to make a bar chart. Pink was the most popular colour with eleven children choosing it as their favourite.
We learnt a lot about Diwali. We made rangoli patterns and mehndi patterns. We learnt the story of Rama and Sita and how the people lit diva lamps to show them the way home after Rama and Hanuman rescued Sita from the evil Ravanna. Lots of the children enjoyed doing some Bollywood dancing.
Red Class 2018/19
Summer 2 2019
During Science Week we went to the woods and worked on some forest schools activities with Tanya. We started with a 'rainbow challenge'. We had to search in the woods to find natural objects in a range of colours. Next we made clay sculptures which we pushed onto tree trunks or branches. Lastly we found a stick and used pens and wool to make it into a pet.
In Science Week we also did an experiment with paper 'water lilies'. We were looking to see how quickly the lilies opened. We tried using salty water, hot water and cold water. The children enjoyed making predictions. We discovered that the lilies in the hot water opened quickest, then those the cold water and the lilies in the salty water took the longest to open.
Summer 1 2019
Our topic for the Summer term is The Great Outdoors. We started by planting some sunflower seeds and some bean seeds. We watched them grow and measured them using cube towers. We were surprised by the different rate of growth bearing in mind that all seeds were planted at the same time and kept in the same conditions.
We had some hatching eggs from The Happy Chick Company. We chose the company as we valued their morals and ethics on welfare of the chicks.
We watched with excitement as the eggs cracked and the chicks pushed and pecked their way out. We looked at the wet, tired chick and were surprised at the speed with which their down feathers dried out and fluffed up. We really enjoyed watching them. Sometimes they would fall asleep standing up and sink to the floor. We thought they looked a little bit like melting snowmen!
When the chicks were a few days old we were allowed to hold them. They felt very soft.
Design and technology
We worked with Mr Sharp to make a wheeled vehicle. We learnt some new skills including measuring, marking, sawing, cutting and snipping using a variety of tools.
Spring 2 2019
We have begun the second half of the term by learning about transport using the non-fiction book 'How We Get Around'. We have learnt about transport from the past and also sorted different vehicles by where they travel.
We read the non-fiction book 'Everybody Needs Water' and found out about how people from all over the world need and use water. It made us realise how lucky we are to be able to turn on a tap and get clean, fresh water to drink. Some people have to drink dirty contaminated water.
We then thought about lots of different ways that we use water - We keep ourselves clean using water; we wash our clothes, plates, pots, pans, cutlery, floors, cars etc. with water; we use water for cooking and drinking; lots of factories use water; we use water to flush our toilets and we use water for having fun in our paddling pools, swimming pools and for our water pistols.
We listened to the story of Noah's Ark. We learnt a new song about how Noah built his ark. Some of the children then made up their own songs and performed them to the whole class in our Red Class Has Got Talent show.
We worked as a team to create a fantastic new Noah's Ark display on our biggest classroom board. We hope you like it!
We made a new display using our super symmetrical eggs. It was quite tricky to make the pattern exactly the same on each side. We also made paper baskets in which to put our Easter treats. We made and decorated Easter cakes.
We made our cute Easter chicks by wrapping pieces of mod-rock around a ball of newspaper. We noticed how the dry strips of mod-rock were very powdery. When we put them into a tray of water they became a bit slippery and we could smooth them over the ball of newspaper. After a few hours, when the water had dried out, the mod-rock spheres were quite hard. We then painted them and added eyes, a beak, wings and a tail. We think they are beautiful.
Spring 1 2019
Happy New Year! We have begun our new topic, Books. We are working on both fiction and non-fiction texts. Our first book was 'Time to Play' which showed beautiful photographs of children and their toys from around the world.
We also learnt about toys from the past. The children did observational drawings of their favourite toy. The musical teddy bear was very popular. We learnt that not all 'soft' toys were very soft. The yellow dog is stuffed with straw so he is not very cuddly. He is, however, completely adorable!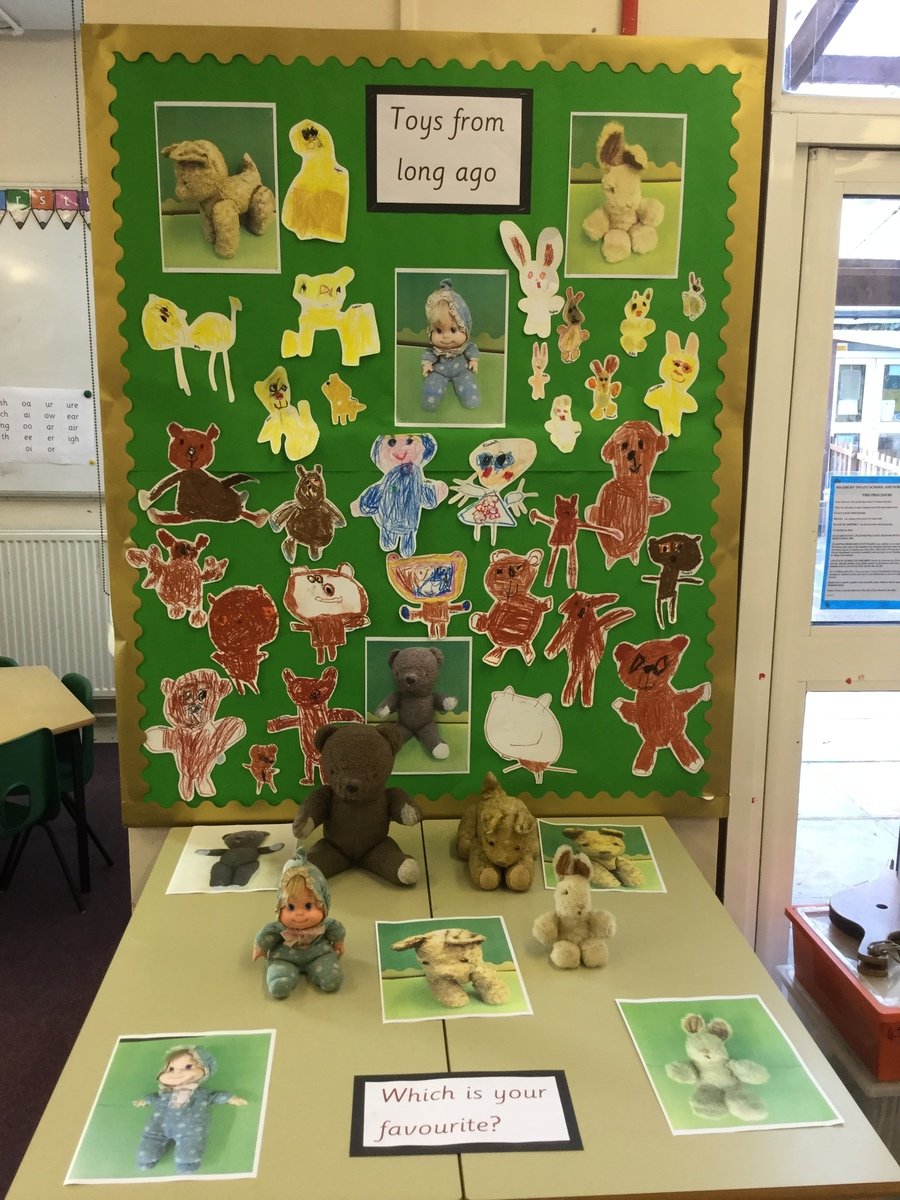 We then learnt about homes from around the world using the book 'A Place to Call Home'. The children really engaged with this book and we made a fantastic display showing rainbow houses from Kulusuk, Himba huts from Namibia, gers from Mongolia, Indonisian houses with towers and treehouses. We learnt that on Tonle Sap Lake in Cambodia people live in floating houses and have to travel in small boats to get to school. We also saw crowded flats and apartments within busy cities. The book, very sensitively, taught the children about city slums. Our fiction book 'There's a Boy Just Like Me' taught the children, through the use of beautiful rhyming text, how similar they are to all the other children around the world, including refugees.
We learnt about food from around the world using the non-fiction book 'The Food We Eat'. We discovered that there are over 40,000 different types of rice. We tried four different types - Basmati, pilau, rice pudding and rice crispies.
We also learnt about Chinese New Year. We are now in the Year of the Pig.
During the week before the half term holiday we learnt about clothes from around the world using the non-fiction book 'The Clothes We Wear'. We were all fascinated by the different traditions. We made a large display in the hall showing some of them.
Autumn 2 2018
Red Class really enjoyed their Forest Schools activities this half term. The waterproof trousers ensured that nobody was worried about getting their uniform wet or muddy; we could all just enjoy being in the outdoors.
Caroline and Holly from 'Down the Woods' ran the sessions which covered so many areas of the curriculum. The children were really excited. We played games, looked at different trees, leaves and bugs, made bird feeders, used a hammer to tap nails into chunks of branches, printed using leaves and other natural materials, listened to stories and made music. We plan on having some more woodland adventures next term.
We enjoyed learning about Diwali, Bonfire Night and celebrating birthdays. We had a lovely party for Red Ted with a birthday tea, birthday cake, pass the parcel, and dancing. we all made party hats to wear. Red Ted enjoyed his party.
We then learnt lots about Christmas. We made displays in the classroom to show the different parts of the Nativity story as well as a snow scene and a Christmas tree made entirely from colourful stars. We also wrote letters to Santa, made gingerbread people, used hand prints to make Christmas cards for our families and made a calendar using finger prints in different colours to represent the changing leaves on a tree during the four seasons of the year.