Purple Class 2019/20
Spring 1 2020
Our topic this half term is The World Around Us. We will be looking at a wide range of fiction and non-fiction books. Some of these will include; Kipper's Toy Box, A place to call home, There's a boy like me, Time to play and Clothes around the world. We will also be learning about Chinese New Year and how people may celebrate.
Autumn 2 2019
Our topic this half term is celebrations/events. We will be looking at Bonfire night, Remembrance Day and Christmas.
We made poppies out of clay. We used a cutter to cut out the petals and a circle for the centre. We then rolled balls of clay up to put in the middle to show the seeds. When the clay had dried we painted our poppies red and black and put PVA glue over the top to varnish them.
For firework night, we made some firework biscuits. We used two different coloured icings. We put a spoonful of each colour on top of our biscuit and used a cocktail stick to mix the colours together.
In foundation stage, we had a PJ day. As part of PJ day we had stories in the hall read by torch light. In class we had a bedtime drink and snack (hot chocolate and a biscuit) and designed pyjamas. It was a really fun day!
Autumn 1 2019
Welcome to Purple Class! We are pleased to say that every member of purple class has settled in well and very few tears have been seen. The tears we have seen soon turned in to happy smiley faces. All of the children are taking part in getting to know you activities, which are helping the children to make new friends. We are reminding children of school rules and taking this opportunity to help the children get to know the school.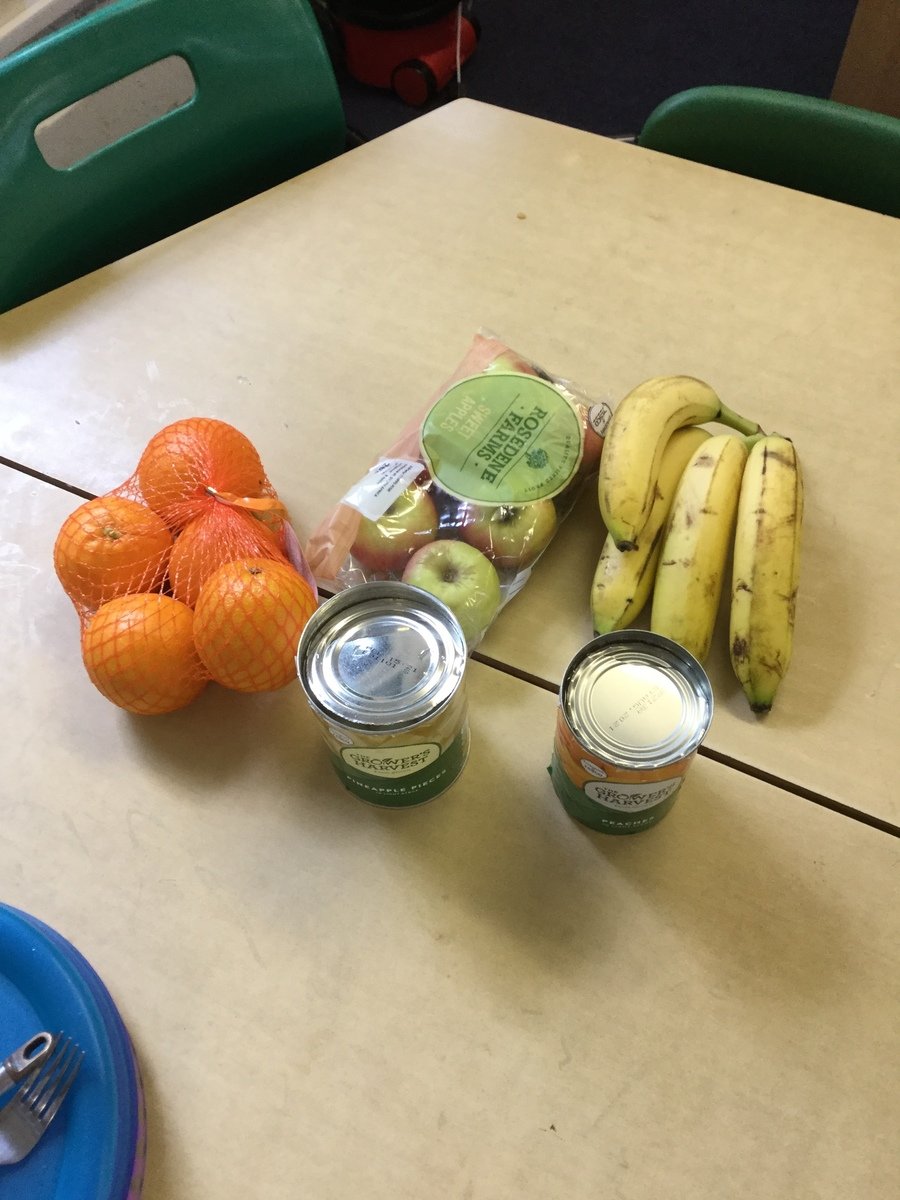 We tasted different fruits to find out which was our favourite. We had to choose from; oranges, pineapple, peach, apple and banana.
We made a bar chart to show what we found.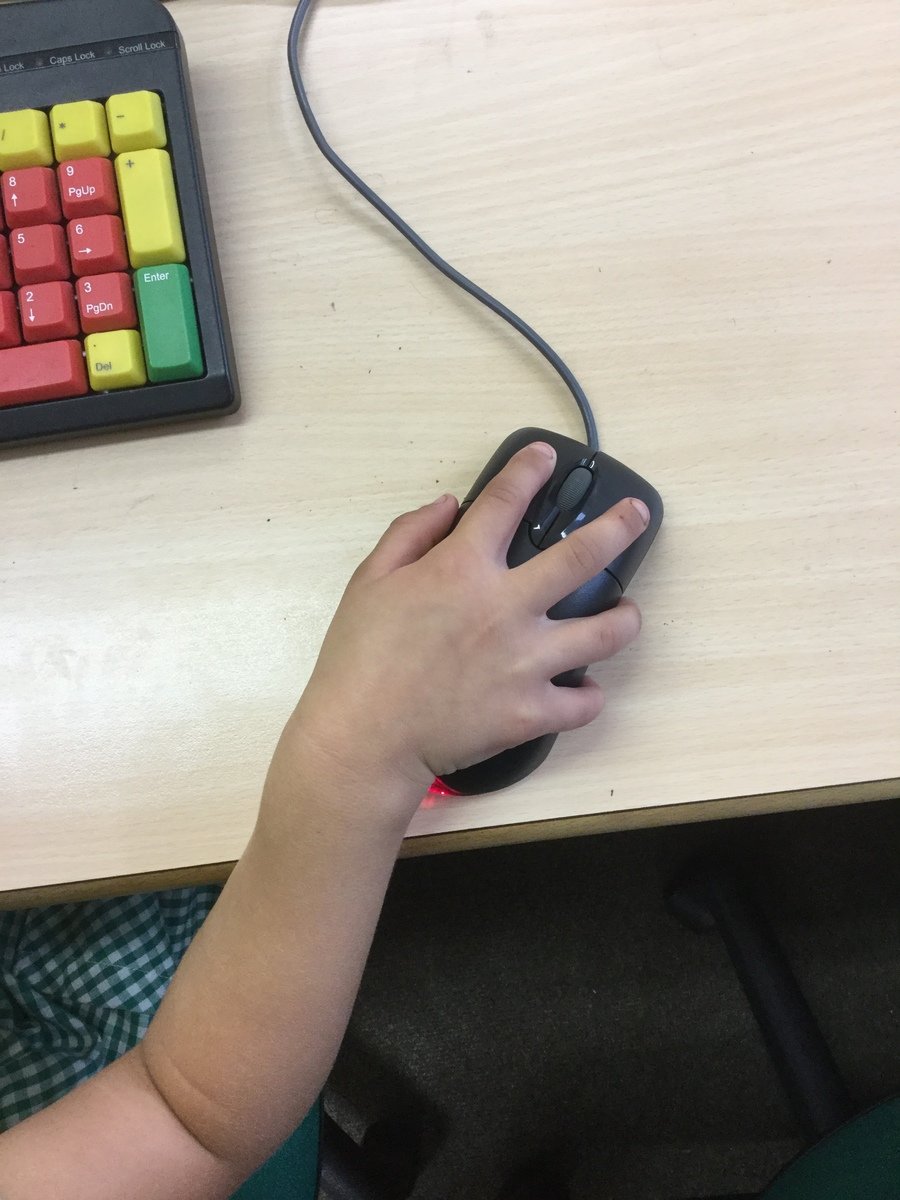 In computing, we have been practising using the correct mouse control. We have to make sure our index finger is on the left side of the mouse and the middle finger is on the right.
In the outside area we have had lots of technology. We have been using cameras, practising using the keyboard and mouse and also used talking tubes.
Once we had taken lots of photos, Miss Craik printed them out and made them into photo albums for us to search around the garden to find where the picture was taken.
Summer 2
Safari Stu at Haverings
We had an amazing time with Safari Stu on our school trip. He showed us lots of beautiful creatures. We got to hold or stroke them.
This half term in computing we practised using beebots. We learnt how to give the beebot instructions using the directional buttons and how to 'clear its memory' using the cross button. We used the word 'programming' and I explained the the children that they were programming the beebot to follow their instructions.
Letting the butterflies go!
Once a few butterflies had emerged we started to let them go onto some of our beautiful flowers.
We have caterpillars in our class for the next few weeks. We will be watching them grow, see them inside their cocoons and emerging from their cocoons into butterflies.
This half term we will be working really hard on a writing. We will be thinking about letter formation and using our phonics.
Summer 1
This half term both reception classes will be taking part in a 12 week programme called Play-trition. This programme is designed to teach children to understand and make healthy lifestyle choices. They will be introduced to characters called Joe and Emma and will be given the opportunity to explore different foods, find out where they come from and learn what's healthy and what's not. The children will also be told about the importance of eating breakfast, how to keep our teeth healthy and how food gives us energy. This is a fantastic opportunity for the children and I am sure they will really enjoy it.
As part of our topic we have been planting different flowers to watch them grow. In our wood area (behind the Bluebells Centre) there is an area that was full of weeds and was not very nice to look at. We decided to make the area look nicer by planting some wild flowers. We split off into two teams, one team did the weeding and cleared the area, the other team helped level out the ground and put fresh compost down. We then went back to the woods as whole class and scattered some wild flowers seeds. We will visit the woods weekly to make sure the plants are getting enough water and to watch them grow.
We used clay to make minibeasts. We shaped the clay using our hands and other tools and after letting it dry, we painted it.
Spring 2
Our topic this half term will continue to be books. We will read two non-fiction books; one about travel/ transport and the other about water. We will use these books to link to the activities we do.
World Book Day took place on Thursday 7th March. The children were invited to dress up as their favourite book character. In school they took part in a fancy dress parade in the hall with the rest of the school. We made bookmarks in class and the children will also got to go to a different classroom at the end of the day where another teacher read them a story.
We learnt about why water is important. He created a piece of writing and Miss Craik made a water display of our work in the classroom.
As part of science this half term we conducted a floating and sinking experiment. For our experiment the children started by having a whole class discuss about what might float and sink and why. The children came up with lots of interesting reasons and explanations. We wrote down our predictions as part of our literacy lesson.
For the experiment we tested each item after having a hands up vote. We wrote down our results in a chart and recorded them in a cutting and sticking activity.